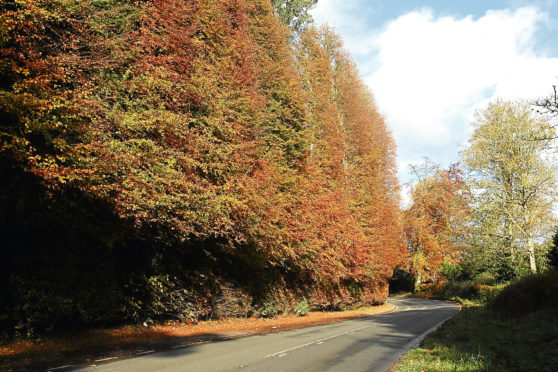 Nosy neighbours are quick to point out an overgrown garden hedge – but what if the bill for a trim comes to a cool £90,000?
That's the predicament facing Sam Mercer Nairne, 42, owner of world's tallest beech hedge at Meikleour, which hasn't been cut in 18 years due to a lack of funds.
Councillors have now warned the "iconic" Perthshire tourist attraction has become so overgrown it is turning into "just a line of trees" and that a plan must be put in place  to save it.
Mr Mercer Nairne said the hedge was last cut at the turn of the century in 2000.
"In my living memory it used to be cut every 10 years. There was an informal agreement that every time this came up we would talk to various bodies and find a way to share the cost," he said.
The Meikleour Beech Hedge is recognised by the Guinness Book of Records as the highest hedge in the world.
Planted in 1745, it is more than 500m long and greater than 30m tall.
The bill for tidying up the hedge has been estimated at £90,000. That includes managing traffic on the A93, access to the hedge via a hydraulic platform, and the labour to cut and shape it.
"It's an enormous amount of money and difficult for us to undertake ourselves," Mr Mercer Nairne said.
"I have suggested to the council that the best solution to this problem is to divide it into three parts. They could pay for the traffic management, we would pay for the labour, and we would have to find another body, perhaps VisitScotland, to pay for access to the hedge."
---
>> Keep up to date with the latest news with The Courier newsletter
---
Councillor Grant Laing, SNP, whose Strathtay ward includes the hedge, raised the issue at a council meeting. He has been in talks with Mr Mercer Nairne to plot a way forward.
"We are going to lose this landmark unless something is done pretty swiftly. The branches have become so overgrown that it is beginning to lose any sense of being a hedge.
"We are a big tree county in Perth and these are big hedges so we should be doing all we can to keep them."
Councillor Angus Forbes, Conservative, said he passed the hedge regularly and it could soon become "just a line of trees".
Professor John Lennon, director of Glasgow Caledonian University's tourism centre, and one of Scotland's leading experts in making tourism more profitable, said:
"This is a famous site. There is no doubt that natural heritage is a big part of why tourists come to Scotland and this is one of Perthshire's iconic signature locations."
A VisitScotland spokesperson said it wouldn't be in their remit to fund such a project.
"Visitors come to Perth and Kinross for many reasons, namely its stunning landscapes, scenery and rich history. To be home to the highest hedge in the entire world is a significant achievement and certainly a unique and popular experience for visitors to the region," she added.
A Perth and Kinross Council spokeperson said they were happy to discuss how the council could help.
"We'd ask Mr Mercer Nairne to get in touch with us to discuss his proposal further," she said.
More from Big Tree Country
The Fortingall Yew – Estimated to be perhaps 5,000 years old, the Fortingall Yew may be the UK's oldest tree and probably the oldest living thing in Europe.
The Birnam Oak – An ancient sessile oak standing on the banks of the River Tay near the Perthshire village of Birnam is said to be the last survivor of the legendary Birnam Wood, immortalised in Shakespeare's Macbeth.
The Niel Gow Oak in Dunkeld – According to legend, 19th Century fiddler Niel Gow wrote many of his most famous Strathspeys and reels while sitting underneath the tree, which stands on the edge of the Tay. His patron the Duke of Atholl was said to have stood listening on the other side of the water.