This is the moment masked armed robbers carried out a "terrifying" £500,000 armed raid at an exclusive Perthshire resort.
Richard Fleming and Liam Richardson were convicted on Wednesday for their involvement in the robbery at Gleneagles Hotel in Auchterarder on June 27 2017.
Fleming carried a hammer, machete and pistol during the daring heist, which saw the masked men make off with dozens of high-value Rolex watches worth more than half a million pounds. They are yet to be recovered.
The nature of the assault and the "extreme" level of violence shown led staff and visitors to believe they were witnessing a terror attack, police said.
CCTV of the raid on the Mappin and Webb jewellery store has now been released showing people fleeing as the men storm the hotel with weapons.
They are filmed smashing into display cases and filling bags with the contents.
Fleming, 42, from London, denied being involved, but was convicted by a jury on Wednesday following a trial at the High Court in Edinburgh.
Richardson, 30, also of London, admitted his part in the robbery before the trial got under way.
Pair convicted over 'reckless and terrifying' armed robbery at Gleneagles Hotel
The pair, described by police as organised criminals, will be sentenced next month.
Armed with the weapons, Fleming and Richardson, acting with another individual, ran into the hotel and smashed up the display cabinets at the Mappin & Webb boutique.
Placing the employees in a state of fear and alarm for their safety, the men fled with the watches in a vehicle stolen from the south of England.
A couple of housebreakings earlier in the month in St Andrews, Fife, helped lead police towards identifying the suspects, who were arrested in London a few weeks after the Gleneagles attack.
The High Court jury returned majority guilty verdicts against Fleming on a charge of armed robbery and two of assault after two and half hours of deliberations.
Fleming earlier admitted breaking into houses in St Andrews on June 12, 2017, around two weeks before the Gleneagles raid.
Richardson earlier pleaded guilty to the armed robbery charge.
Judge Lady Carmichael told both men they would be sentenced on October 24.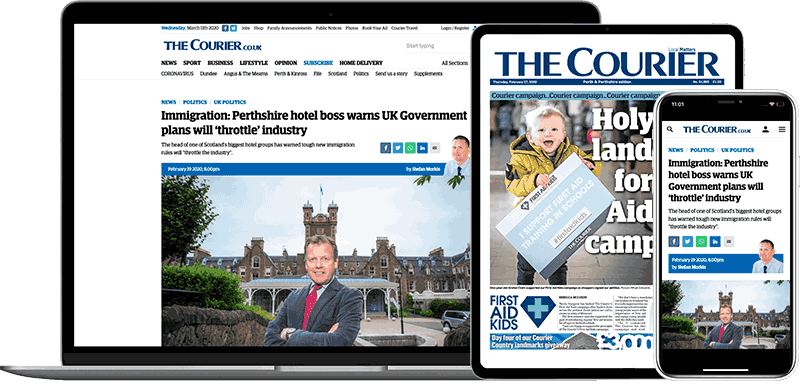 Help support quality local journalism … become a digital subscriber to The Courier
For as little as £5.99 a month you can access all of our content, including Premium articles.
Subscribe