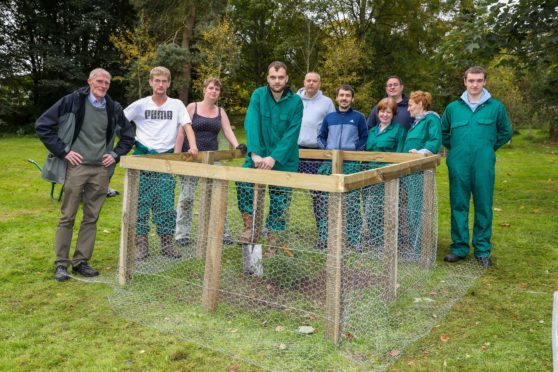 Rare trees have been planted in the grounds of Perth College to mark a conservation group's milestone anniversary.
Five internationally-threatened conifers were set in place at a ceremony on Tuesday morning.
College principal Margaret Cook planted one of the trees, a Fitzroya, on the site of the former gardens of what was Brahan House. Perth's famous Pullar family, who owned the mansion, planted several exotic species in their grounds.
The planting was arranged to celebrate 10 years of the Perthshire Conifer Conservation Programme (PCCP).
The group was established to find "safe havens" in the woodlands, gardens and estates of Perthshire, where threatened conifers from around the world can be grown ready for the day when their seeds or other genetic material can be returned to their countries of origin to help reestablish depleted forests there.
PCCP has planted around 1,000 trees of about 70 different species in the last decade.
Each tree planted on Tuesday has its own specially designed cage to protect it while it grows.
These have been made by horticulture students at the college, who will look after the trees as part of their studies.
---
>> Keep up to date with the latest news with The Courier newsletter
---
Project officer Doug Flint said: "I'm delighted to welcome Perth College UHI as the 25th site in the PCCP, and it's fitting that the trees should be planted on our 10th birthday near other unusual mature trees on the former Brahan estate.
"I'm particularly pleased that the students will help protect and monitor these new trees."
Ms Cook said: "We are pleased to support the valuable work of the PCCP and protecting these trees on campus will enrich the student learning experience.
"For years to come, these trees will inspire our NC Horticulture students as they develop their practical skills whilst learning about the important role of conservation."
PCCP trees are accessible to the public across a number of forests, parks, gardens and designed landscapes in Perthshire including hotels like Gleneagles, Dunkeld and Crieff Hydro.
They have also been introduced to Perth and Kinross Council greenspaces, and publicly owned land managed by Forest Enterprise Scotland, as well as privately owned estates like Scone Palace, and Blair Castle.