A global street dance company has backed Perth youngster Lily Douglas by selling hair bows to raise money for her cancer treatment.
Lily, 11, is in Spain being treated for a rare strain of bone marrow cancer. Earlier this year she was given the all clear but just a month later doctors said the cancer was back — and more aggressive than before.
Perth residents quickly sprang into action and raised more than £20,000 towards her treatment.
Now, the United Dance Organisation (UDO) is selling bows in pink, Lily's favourite colour, to help with the cost.
Keen dancer Lily regularly competes at UDO events and qualified for next year's world championships at an event in Perth, just two days after her diagnosis.
UDO UK project manager Christie Lewis said: "Lily attends all of our Scottish competitions and has still been attending throughout her illness.
"Even when she found out the cancer was back she still came to a competition that weekend and smiled the whole way through.
"I have two daughters of my own so Lily's illness really touched me and I was so upset when I heard it was back.
"Her smile is infectious and she always seems so happy when she dances so we wanted to do something to help."
Christie sourced a supplier online and 200 bows have already been sold since the fundraiser launched last week, raising £500.
It is hoped even more will be raised at this weekend's Six Nations Championships in Wales.
Christie added: "We will sell them at all of our events including the European Championships, and the dance schools we work with in Scotland have agreed to take batches so hopefully we will raise a lot for Lily.
"We are a close community and we are all behind her."
Bows can also be bought online at www.udoswag.com/pink-hair-bows-lily-douglas. All proceeds will go towards Lily's care.
The therapy in Malaga has included hypothermia treatment, physiotherapy and a strict diet.
Since she was first diagnosed, Lily, a pupil at St John's RC Primary, has already gone through 14 rounds of chemotherapy, nine operations and proton beam therapy in the US, as well as fighting off seven infections.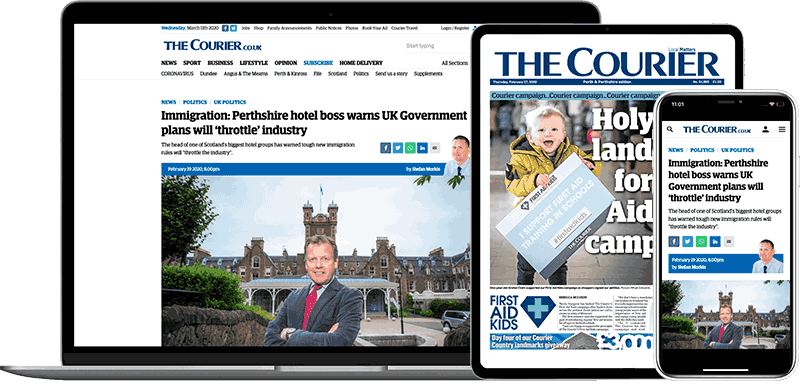 Help support quality local journalism … become a digital subscriber to The Courier
For as little as £5.99 a month you can access all of our content, including Premium articles.
Subscribe