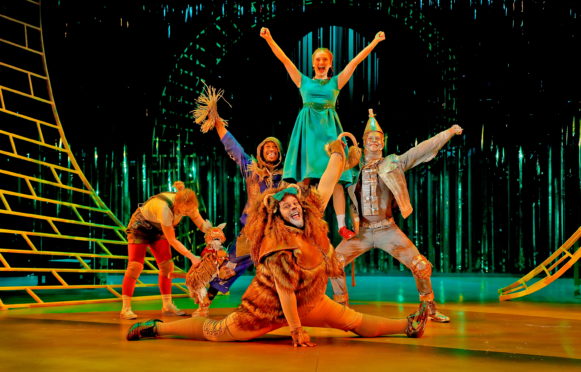 Normally the show must go on… but sometimes it has to come to an abrupt halt, as was the case at Pitlochry Festival Theatre on Saturday night.
As the performance of the venue's critically acclaimed festive production of The Wizard of Oz drew to a climax, the auditorium was suddenly plunged into darkness.
Efforts to restore power failed and the audience had to go out into the snowy night without getting to the end — but not before they had given a rousing round of applause to the cast, crew and staff.
Many had fought their way through Arctic conditions to reach Pitlochry for the 7pm show, which was forced to a close around 15 minutes before it was due to end.
Audience members took the disappointing finish in good spirits, praising what they had seen before the power cut.
Panto-goer Nicola Davidson said: "It had been a brilliant show and there couldn't have been more than 15 minutes or so to go when the power cut out suddenly.
"Everyone was brilliant about it though – it's just one of those things – there was nothing to be done.
"It's not like we didn't know the ending anyway.
"You just feel sorry for the people who have put in all that work and then that happens – it's such a shame."
Luckily the power was restored early on Sunday morning, in time for the sold-out matinee.
Front of house manager Alec Drummond said: "We're back up and running so it's all systems go.
"These things happen and we were lucky it happened near the end and not at the start.
"Everything is hunky dory again and we're looking forward to a full house today.
"The show will go on."
The Wizard of Oz has been running at Pitlochry Festival Theatre since November 23.
It has been the best-selling winter musical in the venue's history, with a string of sold-out performances.
The production draws to a close with a matinee on Sunday December 23.