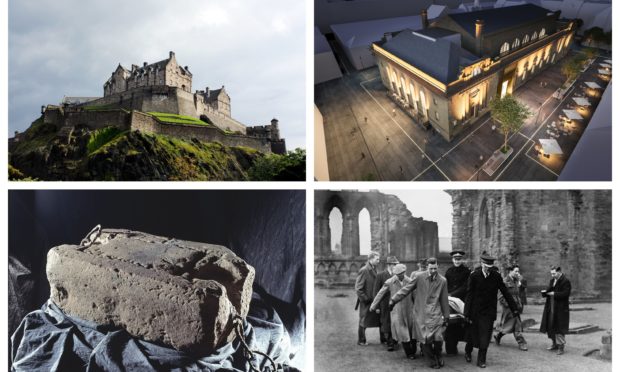 The royally-appointed guardians of the Stone of Destiny are coming under fresh pressure to return the ancient relic to Perthshire.
Council bosses want to display the artefact at the revamped Perth City Hall as part of a cultural shake-up that could bring hundreds of thousands of extra visitors to the area.
Perth and Kinross Council put forward an application to its keepers, the Commissioners of the Regalia, about two years ago.
Last month, The Courier revealed Historic Environment Scotland had issued a counter-bid to keep the stone at Edinburgh Castle.
A final decision will ultimately be made by the Queen.
Now local MSP Murdo Fraser has written to the Regalia organisation, arguing that the stone should return to Perth where it can be shown to the public for free.
In his letter, the Conservative politician wrote: "The Stone of Destiny is one of Scotland's most famous artefacts. The story of its removal and subsequent return to Scotland has been the subject of countless films and books.
"I believe the stone has one more journey to make – back to its historic home in Perth and Kinross."
He said the underlying aim was to ensure that the stone is free to visit.
At present, anyone wishing to view it has to pay to enter Edinburgh Castle. The cheapest adult ticket is £17 with children's tickets starting at £10.20.
Mr Fraser wrote: "I believe that democratising the stone can be hugely positive.
"Giving school groups and local residents the opportunity to engage with a key part of their history would be possible should the stone find its way back to Perth.
"Edinburgh Castle is home to a number of stellar attractions and relocating the stone would result in another area being able to reap the economic rewards from interest in on our history."
Mr Fraser said returning the stone as part of a renovated museum and city hall could transform Perth in the same way as the V&A has done for Dundee.
The commissioners responsible for the safekeeping of the stone include First Minister Nicola Sturgeon, the Lord Justice Clerk, the Lord Advocate and the Lord Clerk Register.
The Scottish Government said a decision would be made in due course.