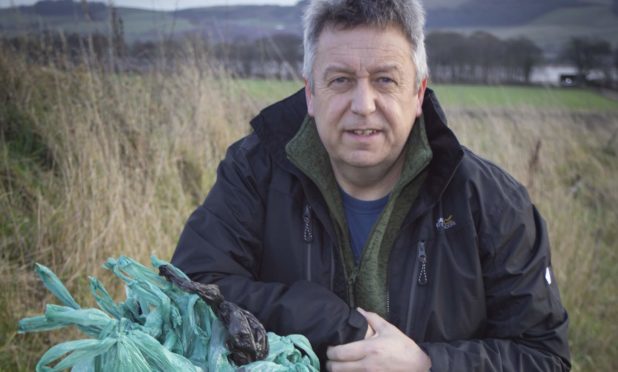 Cash-strapped council chiefs could scrap free dog poo bags as part of swingeing budget cuts.
Perth and Kinross Council distributes more than 3 million sacks to dog walkers each year, at a cost of £15,000.
But the service could now be axed as the local authority prepares for its most challenging annual budget.
Earlier this week, The Courier revealed schools, roads and other frontline services were likely to "suffer" in the new spending plan which will be revealed next month.
Conservative councillor Angus Forbes has warned the provision of free dog bags could end soon, as the council scrapes "through the barrel and into the floor" to make savings.
He said the suggestion to end free bags was put to him by residents on social media.
"The other day I was walking in the tracks to the south of Errol and there was so much dog waste that I felt compelled to pick it up," he said.
"Thankfully I had just filled my pocket with dog bags, so I had enough to collect it all. In total I collected over 20 piles of waste in a walk that only lasted 90 minutes."
The Carse of Gowrie councillor said: "I put a photo of them on my Facebook page and was surprised by the comments.
"I am a fan of the council supplying bags but many of the comments I saw were suggesting that this was not a service that the council should be providing, rather owners should buy their own bags."
Mr Forbes said: "This was very timely as we enter our budget-setting period. No one is in dispute that this is a very difficult budget, our settlement from the Scottish Government is down significantly again and the provision of dog bags is likely to be a victim of that budget."
He added: "Last year we scraped the bottom of the barrel in our hunt for savings. This year we are through the barrel and into the floor.
"The fact that we are looking at such a small amount – £15,000 per annum – indicates how bad this is."
The free bags service is not a statutory requirement for the council. Bags can be picked up at post offices, shops, libraries and council offices throughout the region.
Dog mess goes to landfill, because compost processors won't accept them in case there's a risk of disease.
Local Liberal Democrat group leader Peter Barrett warned that the council would have to make cuts that would be "highly visible and unpalatable".
He has blamed a reduction in Scottish Government funding.