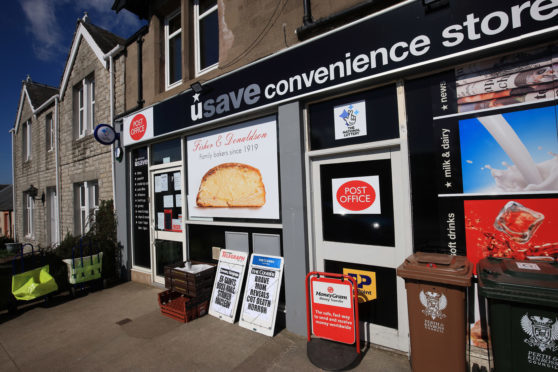 Concerns have been raised about the future of Scone post office as the prospect of closure emerged again this week.
Postmaster Henna Naeem said there are no immediate plans to close the counter inside Usave convenience store, but confirmed the shop is still up for sale.
Villagers were stunned when the Perth Road store was advertised for sale on Gumtree in September, just months after the post office was temporarily closed.
It was advertised on the buying and selling site with a £130,000 asking price.
Ms Naeem put the closure fears down to village gossip.
She said: "It's just people in Scone talking without checking first.
"The shop is still up for sale and we are in talks but nothing has been decided.
"It is business as usual right now, for the shop and the post office."
Vanessa Shand, chairwoman of Scone Community Council, said the uncertainty has caused problems in the village since the abrupt closure last April.
"We haven't been told anything officially which is very frustrating for us," she said.
"It would be a great loss and disappointment to the community because when it closed the last time a lot of people in the village found it very difficult to go into Perth all the time.
"If the shop is sold and turned into something else I hope there is scope to find somewhere else for the post office to go.
"It is difficult for people who live here, never knowing what is going on."
The shop was taken over by new management in 2017, following the retirement of previous long-standing operators Lewis and Linda Simpson.
Last April the post office closed without warning for staff training and reopened the following month.
One resident, who asked not to be named, said: "I was told on good authority it was closing at the end of the month.
"A right mess has been made of the whole thing since the news guys took over. It was open then closed then open again.
"It would be a disaster for Scone if it closed for good."
A Post Office spokeswoman said: "We would like to reassure customers that we are committed to maintaining vital post office services for the local community, including banking services like cash withdrawals from high street bank accounts, bill payments and of course a wide range of postal services."