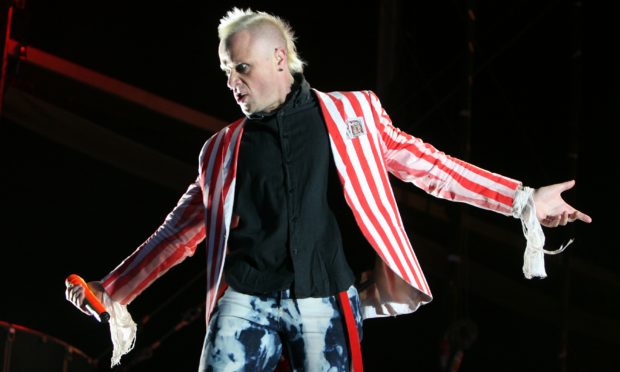 The sad, sudden death of Prodigy frontman Keith Flint rocked the music world last week.
The 49-year-old was an icon to generations of fans, known across the world for his exuberant, action-packed and exhausting-even-to-watch live performances.
And he had a special connection with Tayside's much missed T in the Park. As his career took off, in tandem with the rise of TITP, he became the face of the festival.
Each time his band played there, it was usually Keith's nightmarish clown features on the front page of newspapers the next morning.
Indeed, many obituaries over the last few days featured striking images from The Prodigy's TITP sets.
T in the Park helped The Prodigy win over legions of Scottish supporters. During the band's first appearance in 1996, Keith delighted the crowd by wearing a bizarre tartan kilt ensemble.
It was an early example of a Sasanach star wearing tartan during a Scottish gig, making Keith not just a Firestarter, but a trend-setter as well.
And in turn, The Prodigy helped elevate T in the Park, giving it a leg up from its humble roots to one of Europe's best loved festivals.
After another storming headline set in 2005, the Kinross show was named best festival at that year's UK Festival awards, significantly beating the behemoth that is Glastonbury for the first time.
And when it came time to launch his brief solo career in 2003, Keith made his Scottish debut at Balado, in front of an eager crowd in the King Tut's Wah Wah Tent. Although he was fairly low down the bill, it was Keith's face that featured prominently in that year's media coverage.
The Prodigy famously merged the worlds of electronic music and rock, doing more than perhaps any other band in the 1990s to bridge the divide between fans.
While the imagery was often dark – angry clowns in underground tunnels, crocodiles in bathtubs – the message of unity was always positive and uplifting.
And that's why Keith became synonymous with T in the Park: Like the festival, he united the often warring realms of rock and dance music.
It's sad that future generations will never see his like again. And its another reminder that – despite those dismal, chaotic final years – the Scottish summer is an emptier place without T in the Park.