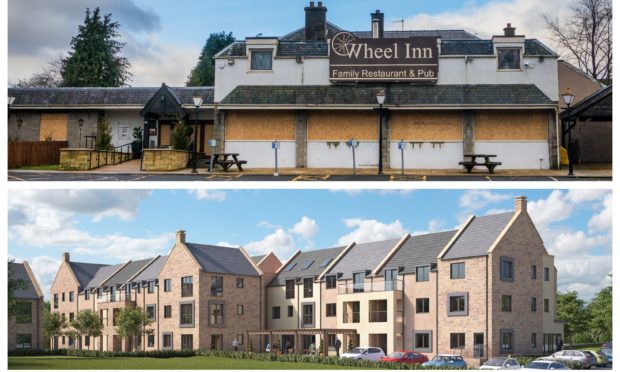 An application to turn a former pub in Scone into 51 retirement flats has been approved – despite developers admitting there is no guarantee the properties will be purchased by retired people.
Councillors approved the application to demolish the Wheel Inn and build flats on the site by nine votes to two.
However councillors opposed to the development argued that the new building should not have been treated as a retirement project.
During Wednesday's planning and development meeting Councillor Lewis Simpson questioned Mark Myles, who is head of planning at Bidwells and represented the developers.
Mr Simpson asked: "The proposal is for 51 retirement flats. What reason do we have to believe that these are retirement flats?"
He added: "Is there a guarantee that the people buying these flats will be retired?"
Mr Myles responded: "They could be people that are still working."
Scone's Wheel Inn boarded up by bosses following sudden closure
Objections mount against plans to demolish Perthshire pub to make way for retirement village
The developers argued that there were planning conditions in place that only people over the age of 55 could purchase a flat and that the likely average age of buyers would be people in their 70s.
Mr Simpson believes dealing with the application as retirement flats meant the development did not have to meet certain conditions a project of its size would otherwise have had to contend with.
After the meeting, Mr Simpson said: "I was not persuaded that this was a true retirement home. It seems to me that this is as much a block of flats as a retirement building.
"I asked the question a number of times and never got a satisfactory reply.
"They avoided various regulations and they avoided traffic scrutiny that I would have thought a development of this size would have to follow."
Mr Myles said there was a proven need for residential housing for the over-55s to address the current and anticipated shortage of such accommodation in the area.
He said: "The development will enable older people to maintain independence in the local community and independent research has demonstrated that sheltered retirement housing offers a substantial improvement in health, a reduction in the volume of care and support required and a greater sense of security and wellbeing derived from a more social and communal living experience."
Fraser Lynes, of developers Juniper Residential, said: "We are clearly delighted that our proposals have been approved.
"It is now well documented there is an increasingly ageing population, but there is a distinct shortage of purpose-built homes to meet the specific needs of this demographic."