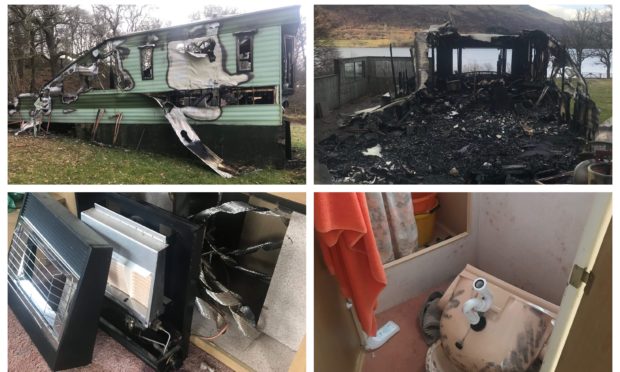 Police are hunting raiders who trashed four mobile homes at a remote Perthshire beauty spot.
One of the caravans was destroyed by fire during the early morning wrecking spree on the Ardvolich Estate, near St Fillans.
The gang, who also tried to burn down a second caravan, made off with thousands of pounds worth of items, including tools, clothing, furniture and power generators.
The caravans, which are used as holiday homes, were empty at the time of the raid.
The owners arrived to find the homes ransacked with fixtures and fittings, including bathroom sinks and heaters, pulled off the walls.
Angus Mackay, from Dunfermline, said: "We've had this spot for 55 years and we have never experienced this sort of violence."
His daughter Jodie added: "My heart goes out to the poor woman who had her caravan burnt down.
"They tried to start another fire in one of the other caravans. They had wrapped newspaper, as if they were lighting a bonfire, and put it round the windows.
"Fortunately the newspaper just burnt out and it didn't spread to the curtains."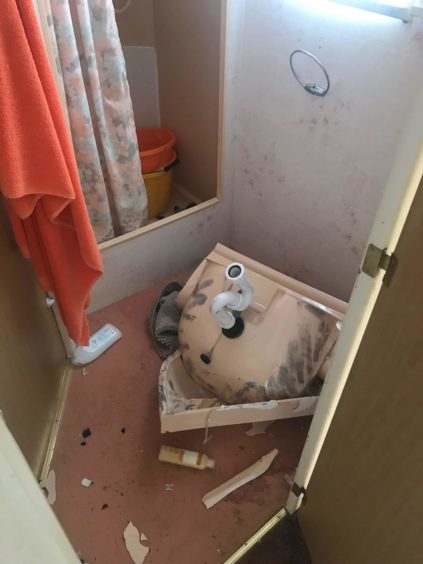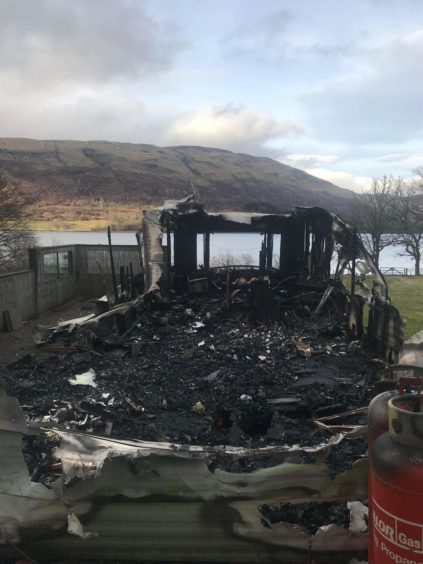 Fire crews were called to the blaze early on Sunday morning, the first weekend of the area's fishing and camping season.
A Police Scotland spokesman said: "We are investigating a number of break-ins, along with a wilful fire-raising, at a static caravan site near St Fillans.
"It happened sometime before 7am on Sunday. A total of four caravans were broken into on the Ardvolich Estate, and one of them was set on fire."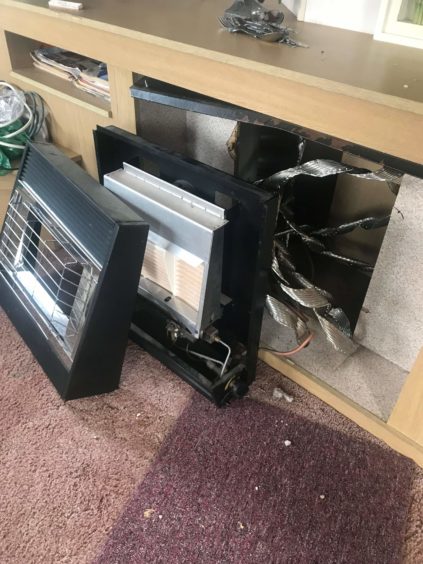 He said: "This location is between St Fillans and Lochearnhead, and is relatively isolated.
"The caravan that was set on fire has been completely destroyed, and the ones which were broken into have been badly damaged."
It is understood there were campers at the foreshore at the time of the incident.
Loch Earn is regarded as one of the most scenic spots in Perthshire and attracts visitors from all over the world. Actor Gerard Butler was spotted there during a homecoming visit to Scotland at New Year.
He urged any witnesses to call investigators on 101 or freephone Crimestoppers in confidence on 0800 555 111, quoting case reference CR/6885/19.