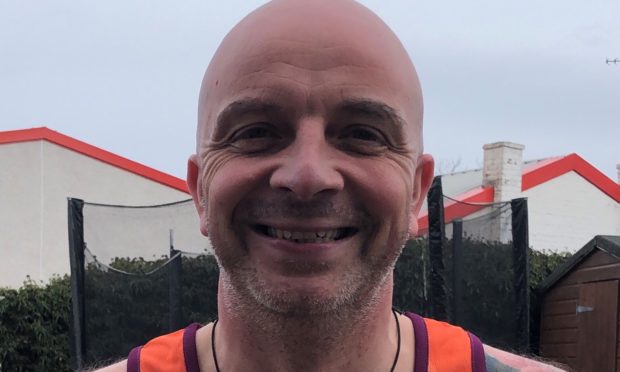 A keen Perthshire runner is gearing up for his first marathon since being diagnosed with multiple sclerosis.
Barnaby Black says he won't let his condition stop him from aiming for a personal best in Edinburgh in May.
It is the fifth time the 48-year-old from Abernethy has raced through the capital's streets. This time he will be raising money and awareness for MS Society Scotland, the charity that has provided crucial support since his diagnosis in March 2017.
Barnaby said: "I've been lucky enough to do some of the most famous marathons in the world, but I've kept coming back to Edinburgh.
"Although it's not my first time doing this course, it's my first one since my diagnosis and I really wanted to help raise awareness of how MS can affect people."
He said: "I've set myself a target for my best ever marathon and I think, if I keep up the training, that I should make it. I'm really looking forward to it."
Barnaby has relapsing remitting MS and was diagnosed following years of uncertainty around symptoms, due to the unpredictable nature of the condition.
He tackled his first Edinburgh Marathon in 2003 and has continued to run in his free time ever since.
---
>> Keep up to date with the latest news with The Courier newsletter
---
He said: "Even thought it can a hidden condition, MS affects me every day.
"Often when I go out training, it can feel like I've already done the distance before I've even started which, of course, can make things a bit harder. But my inner voice keeps saying: I have MS, but it doesn't have me."
---
>> Keep up to date with the latest news with The Courier newsletter
---
The condition is often painful and exhausting, and can affect how people walk, move, see, think and feel.
Barnaby has already made more than £1,300 for the society through an online fundraising page.
Morna Simpkins, director of MS Society Scotland, praised his efforts and wished him well for the marathon.
"A huge thank you to Barnaby for raising awareness and funds for MS Society Scotland," she said. "MS is unpredictable and different for everyone, and our fundraisers and supporters are crucial for all the work we do."
In Scotland, more than 11,000 people have been diagnosed with MS. The MS Society offers a free helpline – 0808 800 8000 – and drives research into better treatment.