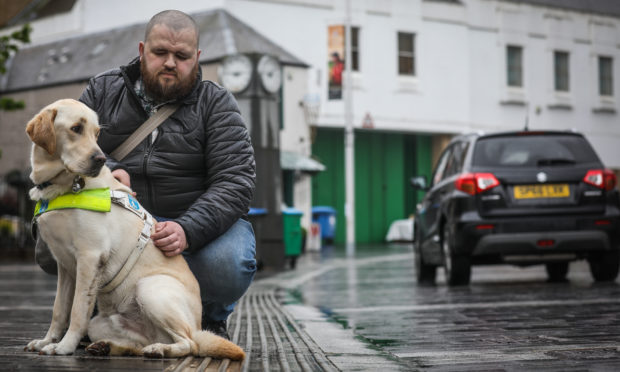 Council bosses are being urged to make improvements to Perth's £1.5 million "cultural quarter" after growing pressure from disability rights campaigners.
The Mill Street area, which was redeveloped in a bid to bring in more visitors, has been described as a danger to people who are blind or partially sighted.
As part of the redevelopment, the pavement and road was levelled off, meaning there are no traditional kerbs.
Perth College student Jonathan Attenborough, who is an ambassador for the Euan's Guide charity, is pushing Perth and Kinross Council to make the street safer for people with sight impairment.
The 29-year-old, who can only see shapes and colours after a 2017 operation to halt glaucoma failed, will put his case to officers next week.
"Guide dogs are trained to locate kerbs and controlled crossings," he said. "So if I was going across the street to get to the concert hall, I could walk straight in front of moving vehicles because my dog Sam wouldn't know where to stop.
"I know that they have to put down tactile paving to try and warn people, but it's not really making any difference whatsoever."
He said: "This is the only part of Perth where I have to ask for assistance to get safely across, and that's very frustrating.
"The whole idea of getting a guide dog is having your independence back, and it defeats the purpose when you have to stop and ask for help."
The accountancy student, who was born partially-sighted, added: "I'm certainly not against redevelopment, but places have to be safe for everyone."
Mr Attenborough has arranged to meet senior council staff next week, after an officer who was involved in the redevelopment of Mill Street got in touch on social media. "I think he has acknowledged that changes could be made, so there is scope for improvement," he said.
Mr Attenborough's campaign has been backed by Sandy Taylor, of the National Federation of the Blind UK. Mr Taylor, who has fought for changes at similar "shared space" schemes in Scotland, said: "These places are a real danger to people with guide dogs.
"The dogs need a kerb of at least 60mm, otherwise they can just walk straight onto the road.
"I really hope the council listens to Jonathan about this matter. They should really be consulting with people like us before they start on these kind of redevelopments."
A council spokeswoman said two key local accessibility groups – Centre for Inclusive Living Perth and Kinross (CILPK) and Vision PK – were involved in the design process.
"Their input, alongside general design guidance and experience on other sites, helped to guide features such as locating street furniture in one strip along the entire street," she said.
"We can confirm that officers from our Place Development Team will be meeting with Jonathan next week, and we hope that representatives from CILPK and Vision PK can join us."
She added: "The transformation of Mill Street into a shared space for pedestrians and vehicles sought to take into account the needs of people with disabilities. We always appreciate feedback from residents and visitors alike and officers are looking forward to discussing the points Jonathan has raised when they meet."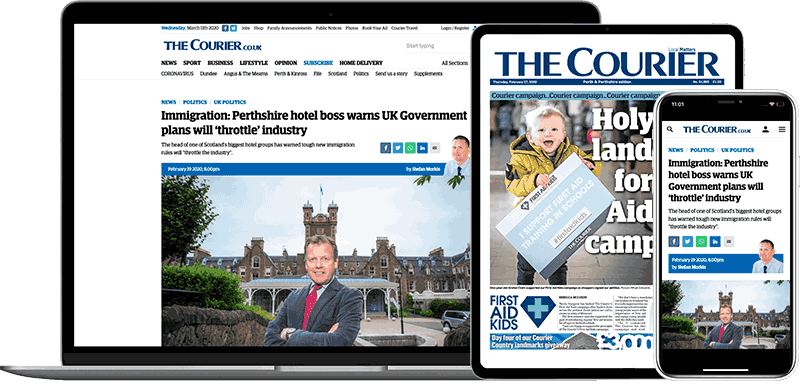 Help support quality local journalism … become a digital subscriber to The Courier
For as little as £5.99 a month you can access all of our content, including Premium articles.
Subscribe