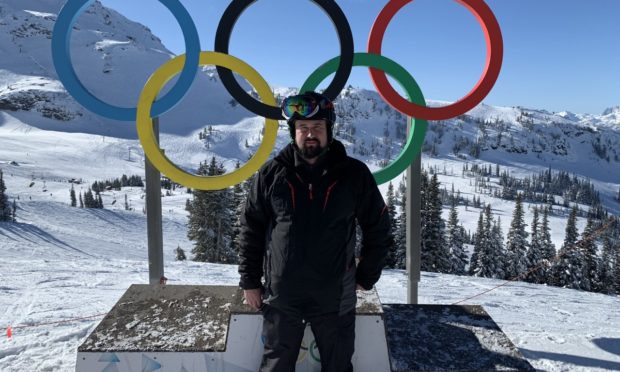 A Perth veteran whose leg was crushed into 17 pieces during a motorbike accident will represent the UK at this year's US Warrior Games later this month.
John Willans, 37, was medically discharged from the Royal Engineers in March after the Perth city centre crash left with him with serious leg and knee injuries.
The July 2017 accident happened while he was on leave following a six-month deployment in South Sudan on a UN peace keeping mission.
The father-of-two underwent three operations on his leg, and spent six months in a wheelchair and another six on crutches but he can now walk with a stick.
John, who plays wheelchair basketball and rugby with Dundee Dragons, got his first cap with Scotland's national wheelchair rugby team in April and earlier this year he took part in a Team UK Invictus Games event organised by Help for Heroes where he tried seated volleyball for the first time.
Shortly after his return John learned he had won a place in the UK team competing at the 2019 Warrior Games in Tampa, Florida where he will compete in wheelchair basketball, rugby, tennis, seated volleyball and swimming.
John said: "Sport has been a massive help in my recovery – trying new sports and adapting things I used to play before my accident to suit my situation now.
"I was over the moon to be selected to go to the Warrior Games.
"To have the chance to compete in such an event is an honour and privilege, I am looking forward to the challenge that lies ahead.
"It gives me another goal to train for and keep me motivated.
"With only being discharged from the army, it keeps me connected with fellow servicemen and women and the banter that comes with being around service personnel."
The veteran, who has served in Bosnia, Iraq and Afghanistan, also took part in the 2019 Allied Winter Sports Camp in Canada, funded by Help for Heroes, where he spent his final days in military service taking part in Alpine skiing, bobsleighing and sledge hockey.
John said: "The camp was an amazing experience, I met so many new people going through the same as me and being able to chat about their experience was so helpful.
"The sports were very challenging but the experience will live with me for ever."
Martin Colclough, Head of Sports Recovery at Help for Heroes, explained that physical activity can play an  important part in an individual's recovery.
Mr Colclough said: "Not only does it help physically but it can provide huge mental health benefits too including improving self-confidence and self-esteem.
"The Warrior Games provides our veterans the opportunity to be part of a team again, something the military often miss after suffering a life-changing injury or illness."
The 2019 Warrior Games will take place from June 21 to 30.