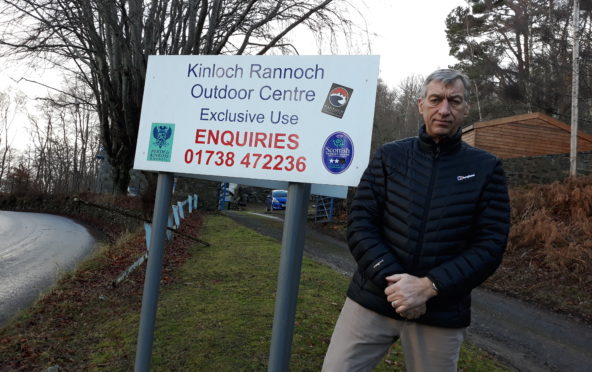 Plans to sell two leisure centre facilities in rural Perthshire have been postponed to allow communities more time to take control of the buildings.
Councillors were asked on Monday to approve the sale of the outdoor centres at Kinloch Rannoch and Blackwater but the plans were pushed back after concerns were raised about the speed with which the properties were being put up for auction.
The outdoor centres have been under the management of Live Active Leisure (LAL) since 2016 but will return to council control this month following decisions taken at LAL's budget meeting in February.
SNP councillors Grant Laing and Dave Doogan said they were worried the quick turnaround had not given community groups enough time to develop plans for a Community Asset Transfer request.
It also emerged a Community Asset Transfer note of interest had been submitted for the Kinloch Rannoch centre on Friday, after the papers for the meeting had been published.
A spokesperson for Perth and Kinross Council said the authority was unable to comment on who the interest was from.
Mr Doogan said: "I am a bit concerned about the timing and I'm wondering if officers could reassure members of the need for the apparent haste to get these buildings off our books, principally within the context of Community Asset Transfer.
"Sometimes I think we should be respectful that it can take communities a little bit longer to get organised in terms of their ambitions for buildings and I'm concerned we haven't given them that opportunity."
Mr Laing put forward a motion to postpone the auctioning of the outdoor centres.
He said: "I'd like to make an amendment that we don't put them to auction and at this time to give further chance for people to come forward, to give communities a chance."
Property sub-committee convener and Conservative councillor Murray Lyle agreed with the proposal and deferred the decision to the next committee meeting in September.
Mr Lyle did, however, state if all Community Asset Transfer interests had been "exhausted" by September he would be happy to move to auction.
Committee approval is required for the auctioning of the buildings as the anticipated sale of each centre will be in excess of the delegated authority level of £100,000.
Mike Williamson, SNP councillor for Highland Perthshire, previously raised concerns about the closure of the Kinloch Rannoch centre and the negative effect it would have on tourism in the area.