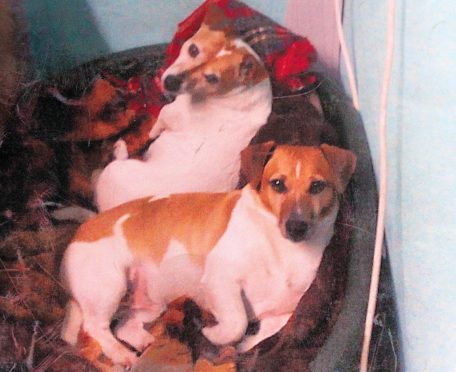 A Perthshire farmer has called on the Scottish SPCA to renew their investigation into the death of his Jack Russell which died in suspicious circumstances a year ago.
Bill Cunningham, who keeps cattle at Broadheadfold Farm, just south of Dunning, has asked the charity to restart their investigation into the mysterious death of his working dog Max – and state outright whether or not it's a crime to kill a dog..
Mr Cunningham had stopped for a coffee break on July 20 last year and let his dogs, mother and son Bella and Max, into a field to stretch their legs.
A forestry worker's vehicle arrived from further down the one-way farm track and asked to get past. After moving his van and realising Max hadn't returned, Bill headed further down the road to investigate.
That's when he found the dog's body – around 75 metres away – lifeless and without a mark on its body. Bill rushed to the vet for a post mortem, but was unhappy with the result.
Having contacted the police and Scottish SPCA, the charity began to probe the death, but have concluded the investigation without an answer.
Speaking previously, SSPCA inspector Robert Baldie said that the charity was "extremely concerned that he has been purposefully targeted", and that "it's very unlikely his injuries were caused from being hit by a car," which the post mortem had suggested.
Now, the case inspector says there is not enough evidence to pinpoint what happened.
He said: "We understand the upset the death of Max has caused Mr Cunningham and we would like to again, express our condolences and sadness.
"The incident was thoroughly investigated by both the Scottish SPCA and Police Scotland but due to lack of evidence we were unable to determine the circumstances which led to his death.
"The veterinary post mortem on Max found that he had died from blunt trauma to the head."
Mr Cunningham suspects that an illegal Taser trap or similar instrument was used to stun Max, and after being electrocuted, someone used a blunt object to kill the animal.
He said: "The post mortem showed no external wounds or puncture marks. There was significant brain damage from a fractured skull, but the crack was on the opposite side from where I found him lying.
"The post mortem said nothing about his missing teeth either. It stated the most likely cause of death was being hit by a vehicle but I don't think so. There were no marks on his body, so I think a Taser trap or something like it was used.
"They're silent and can be as powerful as 50,000 volts. If that wasn't enough to kill him, it would be enough to stun him so someone can jump out and hit him over the head with a blunt object.
"I want the SSPCA to reopen the investigation and look at that as a possibility, and I want to know definitively if it is a crime to kill a dog."