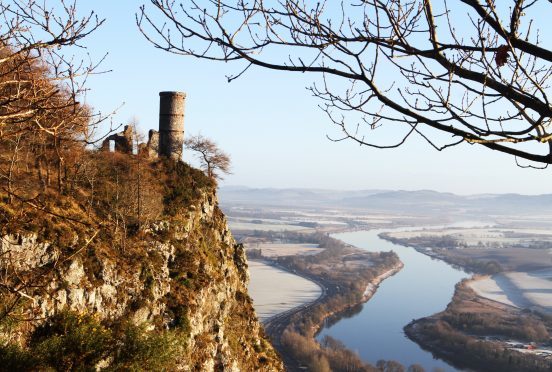 An extensive repairs programme will safeguard the future of one of Perthshire's most iconic landmarks.
Council chiefs have struck a deal to revive the 18th century Kinnoull Tower, following years of concern about its declining condition.
The famous folly overlooks the Tay from a rocky outcrop near Perth, and is one of the region's most photographed buildings.
Steeplejack firm Pendrich Height Services are due to begin work on the B-listed structure from Monday. The £30,000 operation is due to last for eight weeks.
A Perth and Kinross Council spokeswoman said the contract was awarded following surveys of the site in April and May.
"The works will comprise removal of all vegetation and plant growth on the tower, as well as repointing of stonework and wall-heads using lime mortar," she said.
"It will also involve maintenance and repair of all railings and supports around the circular tower, and replacement of smaller support stones – where missing – to match the existing stonework, sourced from the surrounding area.
"These works are intended to help protect and maintain the structure for future generations."
Concern was raised about the state of the tower following a 2012 survey, which recommended repairs costing £6,000.
A follow-up study was due to take place in 2015, but was postponed.
A drone survey, carried out by a member of the public in 2016, showed serious cracking and missing mortar.
Last year, controversial plans to install three stone plinths at the tower, with interpretation panels, was rejected after objectors claimed it would spoil the romantic and tranquil setting.
The Tay Landscape Partnership wanted to install the panels to help visitors understand the history of the tower and its surrounding landscape.
The Kinnoull Hill castellated structure was built in 1829 by Lord Grey of Kinfauns.
The dramatic cliffs on the south side of the hill reminded the Ninth Earl of Kinnoull of the lofty crags along the Rhine Valley in Germany, and the fairy-tale castles that dot the rocky outcrops there.
He felt that Perth needed its own version of those castles, so he raised a fantasy tower at the top of Kinnoull, and another at Binn Hill which is in private ownership.