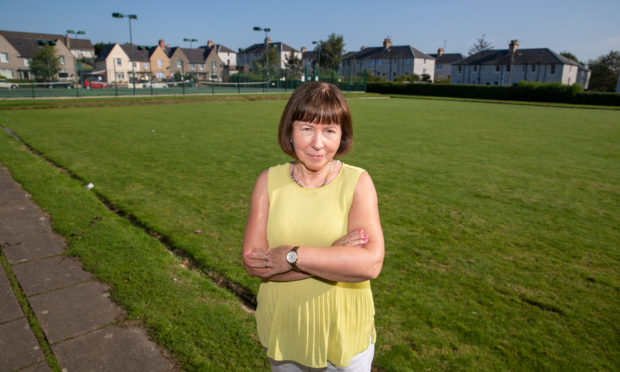 Residents in Craigie say they had no idea a major beach volleyball competition would be taking place on their doorsteps.
Perth and Kinross Council is backing the Scottish Volleyball Association as the Small Countries Association Finals will be held at Darnhall Tennis Club next month.
The three-day competition will see athletes from across the confederation, which includes the likes of Greenland, Cyprus, Malta and Luxembourg, compete at the Craigie sports complex.
However, with no existing beach on which to build a court, the council-run club's bowling green, which has lain disused for the past decade, is to be converted by pouring 400 tonnes of sand onto it.
With the sand to remain in place as a community asset following the final day of the competition on September 22, residents who live near the sports centre are still to be formally told by the local authority that the event is even taking place.
Furthermore, with the unused bowling green being a council green space, Craigie resident Tricia Duncan believes a community consultation should have been held into bringing the it back into use.
She said: "This seems to be a significant event and my neighbours and I am very concerned that it is taking place in the Darnhall area of Perth.
"There's been a complete lack of communication with residents in the area. This is a green space and the council should be consulting and communicating with residents about what they are planning in terms of any major event or future planning for the green.
"There has been a complete lack of manners from Perth and Kinross Council and in speaking to staff who have been planning the event and a complete dismissal of any concerns from local residents.
"We have no idea what has actually been planned in any detail for this area. This isn't the best place for an event like this or beach volleyball in the longer term.
"The infrastructure isn't sufficient, there's not enough parking and there's nowhere for coaches to drop people off.
"The council want to bring events and people to Perth and I support that but for something like this, the North or South Inch would be much more appropriate."
Perth City South Councillor Willie Wilson added: "The only inkling of communication on this issue which I have received was a request to support a funding application for the volleyball pitch.
"I refused to do this because I had no details of what was proposed. There may be planning and other issues such as parking and traffic which need to be carefully examined."
A council spokesperson said: "Perth and Kinross Council is not the main event organiser for the championship, we are however supporting the organisers in any way we can to ensure the event is a success for both the participants and the residents in the surrounding area.
"As we do with all events in Perth and Kinross we will review the arrangements to ensure the impact on the surrounding community is kept to a minimum."