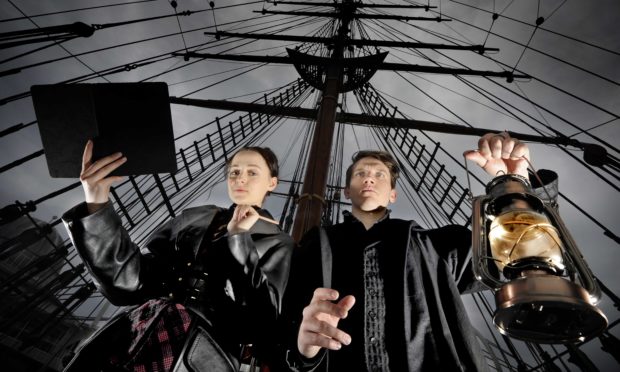 Perth Theatre could be re-launched for a second time, as bosses try to battle their way out of a deepening financial crisis.
The historic city centre venue re-opened its doors after a £16.6million renovation two years ago.
However, culture chiefs say it is time to give the theatre another fresh start as part of a wide-ranging performance review aimed at winning back audiences.
It comes after Perth and Kinross Council was forced to bail out operators Horsecross Arts when the scale of its cash flow problems became clear.
The organisation, which reported a healthy forecast at the start of the summer, is now facing a deficit of £74,000.
The council's chief accountant Scott Walker, who was parachuted in to provide financial management in August, said a series of "errors and omissions" – as well as an assumption about Creative Scotland funding – had caused Horsecross's cash flow position to plummet by £330,000 between June and July.
The local authority was forced to bring forward funding of £180,000 in August to pay staff wages.
Addressing members of the council's scrutiny committee, Mr Walker said poor forecasting at Horsecross had been a major factor in its downfall.
Both the theatre and Perth Concert Hall are now under review, with possible changes to governance, staffing structures and events programmes.
Speaking for the first time since the crisis emerged, Horsecross chairman Magnus Linklater said Mr Walker and the council's head of culture Fiona Robertson – who was installed as interim leader – had "brought a greater sense of stability to the whole operation".
He said: "The theatre is the biggest challenge that we face. We need to get that body of work which is going to bring audiences back into the theatre.
"It's not going to be done overnight, but we need to build a local connection.
"We need to get across the idea that the theatre is part of Perth's cultural and social life. We want to see the doors open for longer."
Mr Linklater, who called for the council to help with marketing theatre shows in the same way it marketed the Solheim Cup, said: "We need to get a better balance of the mainstream and the quality of what we do. I really am convinced that we are beginning to build up the right approach."
Horsecross vice chairman Jason Elles said income generated in the first quarter of the year had been disappointing.
"Primarily, that was as a result of some poor food sales," he said.
"Interestingly enough, we had a large conference there and they didn't want any food at all, which rather surprised us."
He added: "There have difficulties in the past with our forecasting, and we need to get that right because it is vital to know where we are going."
Ms Robertson added: "Scott is putting systems in place so that staff can take a tighter control of what is being spent, and what the organisation is earning."
She said: "Programmes are absolutely key to a sustainable future. But at the moment, the approach to programming is causing difficulties.
"There are some issues about getting a really good understanding of audiences, both who they are and – crucially – who they aren't. We need to look at who isn't coming through the doors and why not."
She said: "One of the things we are working on with senior colleagues at Horsecross is making sure everyone has a true understanding of production costs. Not just what it costs to hire actors and build sets, but also the indirect costs of marketing and putting on extra staff to keep the bar open when a show finishes."
Ms Robertson said that, in the past, Horsecross had "relied on advance ticket sales to pay the bills."
Wanted: New boss to lead Horsecross into calmer waters
Horsecross Arts will hold interviews for its new chief executive next month.
Chairman Magnus Linklater told the scrutiny committee that several candidates had already been considered for the role, but had already been ruled out because – although they were passionate about the arts – he did not feel they had the business acumen that the job required.
However, he spoke highly about a new round of interviewees.
"This is an interim post, which is not the easiest type of vacancy to fill," he said. "It is an interim because we don't, as yet, know the outcome of the council's deliberations on creating a single cultural trust. So, at the moment we can't advertise for a full-time job.
"However, I am quite impressed by the four people lined up for interviews at the beginning of October.
"Rest assured, we will be asking some pretty searching questions."
Fiona Robertson added: "I see an organisational restructure as key to getting back on a sustainable footing, so that chief executive needs senior people and skills around them who are looking at the effectiveness of the operation and keeping an eye on the finances.
"A restructure proposal will be put to the board later this year."