VIDEO: St Johnstone fan, 29, with incurable cancer 'in tears' at supportive video from Tommy Wright and players
A football fan who was diagnosed with a form of incurable cancer last year was left "in tears" after her club sent a heartwarming video of support.
Hannah Toohill, 29, from Crieff, was diagnosed with Multiple Myeloma in October 2018 after a difficult pregnancy which saw her son Fraser born 11 weeks early and taken into a special care baby unit.
Following the diagnosis the new mum, who now lives in Dingwall with her husband Robert, Fraser and daughter  Catherine, 3, spent months in the intensive care unit at Raigmore Hospital in the Highlands.
After four months of treatment Hannah was transferred to the Beatson Centre in Glasgow in preparation of a stem cell transplant which would give her the best chance of remission.
It was while she was in hospital recovering from the transplant that Hannah received the unexpected message from St Johnstone, with long-serving player Liam Craig and manager Tommy Wright leading a host of first team members telling the Saints fan they were "all behind her" in the fight against the disease.
Hannah said: "I didn't know anything about it, it just popped up in my Twitter inbox one day when I was in hospital during my transplant recovery.
"My husband, Robert, was trying to think of ways to cheer me up since I was missing the kids so badly.
"Liam (Craig) was already aware of our situation through Twitter and had already been in touch with Robert to say if there was anything he could do to help.
"It was amazing to see and I was in tears when I watched it. I was so emotional that they would take time out of their busy schedule to do this for me.
"Robert said when he saw the video he couldn't believe the lengths Liam had gone to. It really lifted my spirits and I still find watching it very emotional.
"I've supported St Johnstone for years, and have been home and away, and to amazing trips in Europe three times ."
Hannah found out she was in remission in July.
The Saints fan kept the video to herself for months but has now gone public with it and hopes to raise awareness of the symptom of Myeloma, including back and chest pain, fatigue, anaemia and chest infections.
She said: "I'd like to thank St Johnstone and Liam Craig in particular, for what they did for me.
"I'd also encourage people to learn more about the symptoms of Myeloma, because whilst it's currently incurable, it can be treated and managed well, and early diagnosis is very important."
Hannah also wants people to join the stem cell register and gave special mention to two charities myeloma.org.uk and mummysstar.org that helped her during her battle.
She also gave special thanks to the NHS and the staff at Raigmore Haematology as well as her mum who gave up her job in Crieff to come and help the family in Dingwall.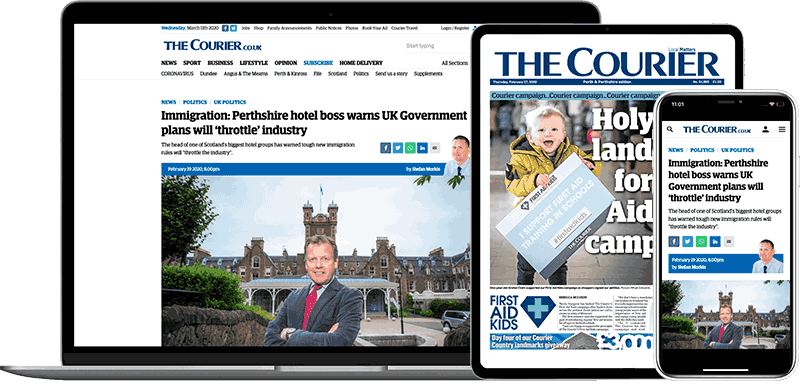 Help support quality local journalism … become a digital subscriber to The Courier
For as little as £5.99 a month you can access all of our content, including Premium articles.
Subscribe