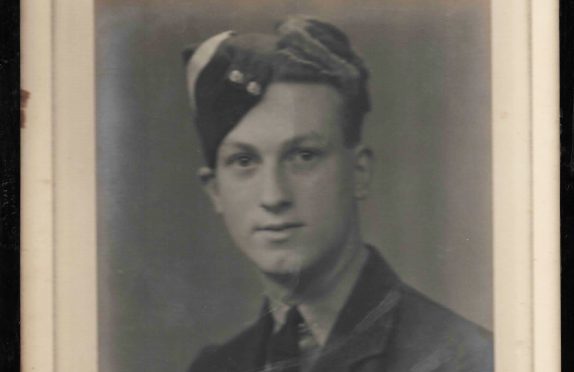 A war hero and avid sportsman who chose to live his final years in Carnoustie has died.
David Laird, who spent the last five years of his life in the town, passed away at the age of 92.
Born in Glasgow in 1925, he excelled at sport in his youth. After attending Queens Park Primary School he went to Jordanhill College, attaining a diploma in PE.
Then at Glasgow University he joined the Air Squadron, starting a love affair with flying that stayed with him for the rest of his life.
His natural aptitude in the cockpit led to him being offered a commission in the RAF and after university he went to America to train as a pilot.
After qualifying as a Lancaster pilot, he flew during the closing months of World War II. He then joined the RAF Volunteer Reserve, attaining the rank of flight lieutenant.
He transferred to the Territorial Army in 1957, where he was commissioned as an officer in the Lovat Scouts and the Royal Artillery. He also served with the Royal Signals and the Royal Corps of Transport where he reached the rank of Major. This gave him the distinction of having been an officer in both the RAF and the Army.
Away from the military, David was a teacher. He taught PE at Douglas High School in the Isle of Man, Reigate Grammar School and Dornoch Academy.
During his 40s he discovered a talent for skiing and in 1967 qualified as a ski instructor. Impressively, he was still instructing in Italy every year well into his 80s.
In his 60s and 70s he worked with young people as an area youth officer in North East Derbyshire, county youth officer for Perth and Kinross Council and the youth policy senior adviser with Sheffield Council.
While at Sheffield, he led the first youth group exchange to Donetsk in the then Soviet Union from the UK.
Despite the demands of work, David always made time for sport, playing football with Ross County and Brora Rangers. After his playing days he refereed in both the Highland and Midland Leagues.
And he was a keen golfer. In 1966 he became champion at Auchterarder Golf Club and then the Sheffield Golf Club's veteran champion in 1983.
After moving to Angus, Mr Laird became a member of Carnoustie's British Legion, the local Probus club and Perth Aircrew Association.
Mr Laird is survived by his three sons David, Kenneth Ian and Stuart, as well as five grandchildren and 12 great-grandchildren. He was pre-deceased by his wife Doris and their daughter Pamela.