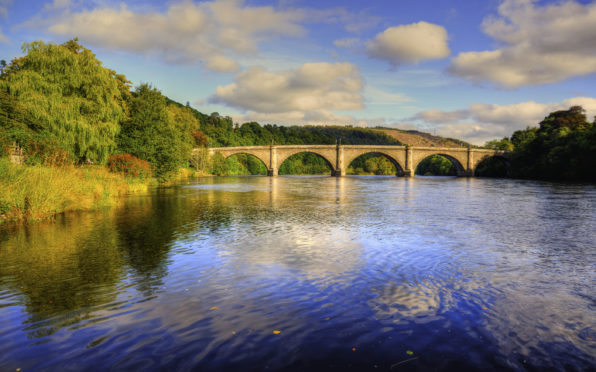 Police have launched an investigation after a woman was found with mysterious injuries on a Perthshire bridge during the early hours of yesterday morning.
The female was discovered on the roadway at Dunkeld Bridge around 1.30am on Tuesday with police remaining at the scene for over 13 hours as they tried to establish the cause of her unexplained injuries.
Police launch investigation after woman found injured at Perthshire bridge
The victim was rushed to Ninewells Hospital for treatment though the extent of her injuries are not yet known.
Officers said it was unclear how long the woman had lain on the bridge that connects Dunkeld and Birnam before she was discovered by a member of the public.
Witnesses described a large police presence at the scene throughout the day as officers launched a full investigation into the incident.
One onlooker said the bridge was still partially sealed off when they went to work at 9.45am, more than eight hours after the woman was first discovered.
They said: "It did look serious when we drove past in the work van.
"There was a lot police activity on the bridge, not sure if a car crashed or that, but at least three police cars and an incident van were there.
"(When) I was driving into Dunkeld, the left-hand part of the bridge was partially closed to pedestrians.
"Police were in a normal car when I went past at 9.45am then on the way home from work on the way back out of Dunkeld about 2.30pm there was incident response and more police cars there."
Last night Police Scotland said they were still trying to establish "what happened" to the woman who was "detected on the roadway".
A spokesperson for the force said: "We received a report of a woman found with injuries at Dunkeld Bridge at around 1.30am Tuesday morning.
"She was taken to hospital for treatment and enquiries remain ongoing to establish the full set of circumstances."