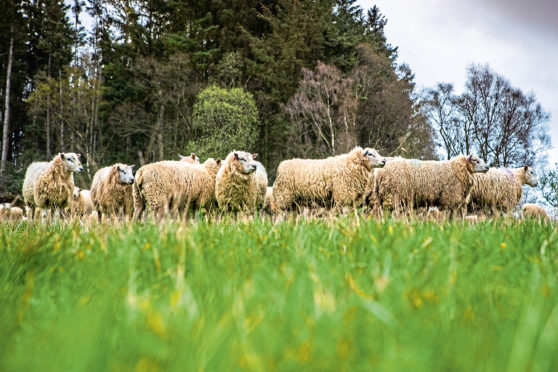 A Perthshire farmer told how he has lost lambs to three separate sheep worrying attacks in less than two years as new figures highlight the seriousness of the problem across Tayside and Fife.
Jordan Smeaton, who runs steadings in Abernethy, Bridge of Earn and Dupplin Estates, has suffered financially after falling victim to numerous incidents.
The farmer wants dog walkers to be aware sheep worrying harms his livestock not just in lambing season but throughout the year.
He said: "In the last few years we've had three separate dog attacks – one about a month ago in Abernethy, one around spring time at Bridge of Earn and one the year before at Dupplin Estates, where the lambs were mauled.
"The dogs had pulled the wool of them and were starting to eat them.
"We've had to put some lambs down and it stunted the growth of the rest of them."
While the Dupplin Estate attack was the only incident during which dogs killed the livestock, Mr Smeaton stressed he lost lambs in all the other attacks.
Following attacks, lambs can be stillborn or die from stress and worried sheep lose eggs.
He said: "It was lambing time at the Bridge of Earn and while there was sheep still giving birth the dog went through the middle of them.
"We lost a lot of young lambs and a few were still born. It's all through stress – that's what people don't understand. It's hard to put a financial cost on it."
Mr Smeaton has called for dogs to be kept on leads at all times and for owners to stay away from farms and fields with livestock.
He said: "The best way forward is for people to think, make them aware and have them keep dogs on leads because they don't know what's around the next corner.
"They really shouldn't be near livestock with a dog anyway."
The issue of sheep worrying is a growing concern across Tayside and Fife with police called to around 86 incidents in the last five years.
Farmers at St Magdalene's Hill in the Moncrieffe area of Perth have also raised concerns about the number of incidents.
Local Liberal Democrat councillor Willie Wilson warned allowing dogs to run free around farmland was "irresponsible".
He said: "This is a serious situation, dog owners should be well aware that there are livestock in these fields at any time of year.
"Allowing dogs to roam free in such circumstances is irresponsible and causes great distress to sheep and cattle.
"We would urge dog owners to be vigilant and ensure that their dogs are kept on leads at all times in the vicinity of livestock."