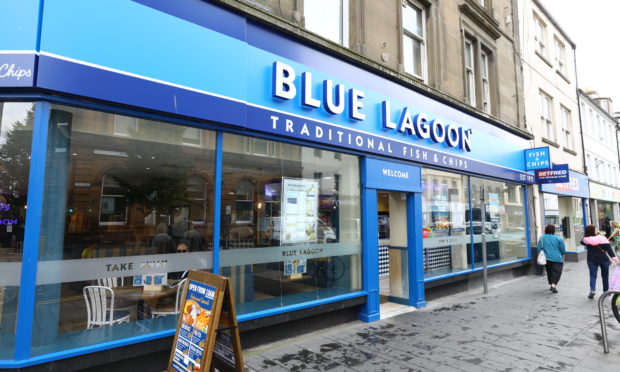 The owner of a Perth city centre chip shop has made a fresh bid for a late hours licence.
Angelo Varese, who runs the Blue Lagoon takeaway and restaurant, sparked a row when his previous bid for an extension of opening times was rejected.
He said in July that the decision by Perth and Kinross Council was "very anti-business" and suggested that Perth needed to "start acting like a city."
Now agents have submitted a fresh application to extend the branch's opening times to 11pm Sunday to Thursday and 1am on Fridays and Saturdays.
Pamela Turner, associate for representatives Iceni Projects, said the last bid was described by the council as "premature" and that the Blue Lagoon had not had the chance to show it could operate without affecting neighbours.
She said management plans for waste and noise were in place.
"Given the evidence that has been collated and agreed in liaison with Environmental Health, it is considered that the proposal will not have an adverse impact on residential amenity in the locale," she said.
Blue Lagoon tells Perth and Kinross Council to 'start acting like a city' after opening hours extension refused
A noise assessment states that CCTV and signs will encourage customers to "behave in a respectful manner".
Ms Turner added: "A review of the surrounding late-night operations demonstrates that there are various other hot food take-away units operating after 11pm within the area. Several of these businesses operate beneath residential dwellings located on upper floors."
Mr Varese, who has been in business for more than four decades, launched his Blue Lagoon empire in Glasgow. He recently opened a branch in Stirling which opens until 3am on a Saturday.
He told The Courier last summer: "Stirling Council were great. Perth council has not been great. It's a very backwards from the council.
"I'm not trying to say 'let's make it like Glasgow' but if they want to be a city then act like a city."
Mr Varese argued the Blue Lagoon is a prime city centre location, close to many pubs which stay open past 11pm.
In their report on the previous application, planning officials said: "It has not been shown that the premises is capable of operation without affecting the residential amenity on neighbouring properties given the limited time it has been in operation and the fact that an appropriate kitchen waste procedure is not in place."