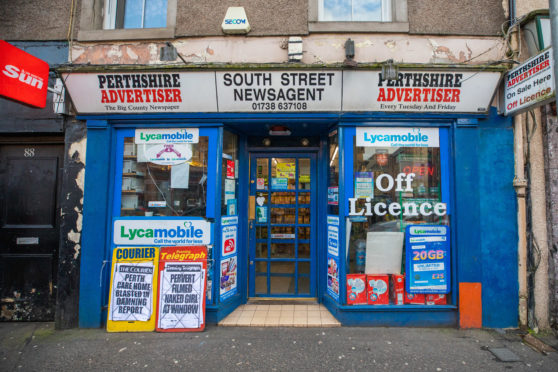 A pair of men were caught on CCTV, hiding in a doorway, before a break-in to a Perth city centre shop.
The raid on the South Street newsagent has sparked a police investigation and appeal for witness information.
The South Street News shop was broken into in the early hours of Tuesday morning.
Shop assistant Sujeewa Pilanagode spoke of the damage done to the shop and the items stolen during the incident.
She said: "We lost around £500 to £600.
"Tobacco and Buckfast were also stolen. The door was also broken and it cost around £200 to repair. We added two new locks to the door."
She added: "No one's going to give it back – that is the problem."
The door to the shop suffered damage to the lock, with parts of the wood having fallen away due to the impact of the break in.
Ms Pilanagode said she believes the door has not seen this kind of damage in the time the shop has been open.
She said: "In 20 years, it is the first time it has been broken like this.
"People would usually break the glass on the door. I think they must have kicked the door down."
Police Scotland took to social media to appeal to any witnesses to come forward with information following the incident.
The post on the Tayside Police Division Facebook page said: "Police Scotland is appealing for information about a break in and theft from a newsagent in South Street, Perth, which happened about 4am on Tuesday 4th March.
"The shop was broken into by two men wearing all-dark clothing, who were seen on CCTV to hide in a doorway in King Edward Street, before breaking into the shop on South Street through the front door.
"Quantities of alcohol and tobacco were stolen from the shop.
"If you have any information that could assist our investigation, please call 101 or speak with police officer.
"Our reference is incident 0356 of 3rd March."
Alternatively, anyone who wishes to remain anonymous can provide information through Crimestoppers by calling 0800 555 111.