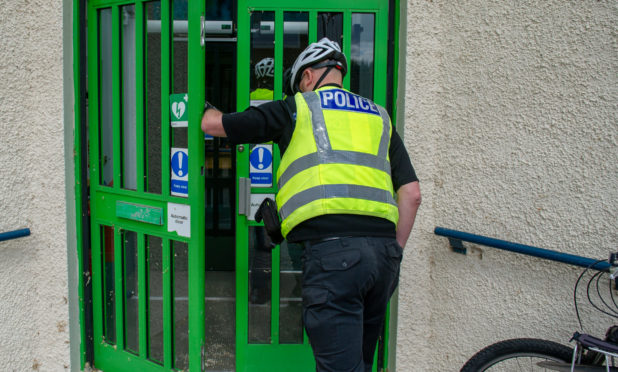 A gang of children are being hunted by police after a "despicable" attack on a Perth charity base.
The PKAVS Carers Centre, which is offering lifeline support to local families in lockdown, was targeted by youths aged 10 to 12.
They were caught on CCTV lobbing stones at the building, causing hundreds of pounds' worth of damage to windows and doors.
The vandalism has been condemned by charity bosses and politicians, who have questioned why the boys were out on the streets in the first place.
The Lewis Place centre was launched just over a year ago to help meet rising demand for support from unpaid carers.
The building was closed in the early days of the pandemic, but was recently revived to help continue services, including helping secure vital PPE for unpaid carers.
Staff arrived on Monday to find vandals had caused "extensive damage" over the weekend. CCTV images show three boys taking potshots at the centre at close range, at around 8pm on Friday.
PKAVS Carers Manager Raymond Jamieson said: "It is so disappointing to see the vandalism carried out on our centre, particularly at such a difficult time when we in PKAVS are doing all we can to support as many people as we can.
"We are now going to have to spend hundreds of pounds to repair our centre at a time when we need all the resources we can get to help unpaid carers of all ages get through the coronavirus crisis."
Local SNP MP Pete Wishart said he was "saddened" by the vandalism. "Given the current circumstances, it is even more disappointing," he said.
"Aside from the fact that the culprits should not have been out of the home for anything other than essential trips, it is concerning that voluntary organisations are facing extra costs when this could have been prevented."
Mr Wishart added: "I understand that it is difficult having children and young adults stuck indoors right now, but it is key that they are obeying the same rules that everyone else is."
Tory MSP Murdo Fraser added: "This is despicable behaviour, especially at a centre like this which is providing support for unpaid carers and various other people during Covid-19.
"This needless vandalism will cost PKAVS hundreds of pounds to repair the damage – money they can ill-afford at this time."
A Police Scotland spokeswoman confirmed enquiries were under way.