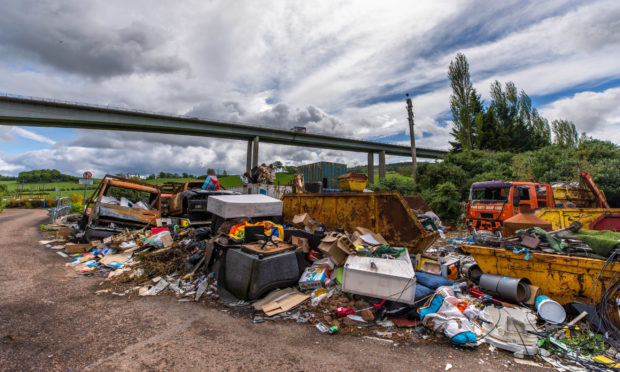 A fly-tipping fund has been created by Perth and Kinross Council to help community groups and land owners remove large amounts of household rubbish dumped across the region in recent months.
The local authority has taken action after a spike on the number of fly-tipping reports during the coronavirus outbreak while recycling centres were closed.
The new fund will allow groups and individuals to access between £500 and £3,000 to clear rubbish and set up preventative measures to stop it occurring again in the future.
Perth and Kinross Council were not able to say how much money they would be setting aside overall for the fund but did detail that funding would not be awarded retrospectively.
VIDEO: Worst case of fly-tipping councillor has ever seen as masses of rubbish dumped on Tayside road
Councillor Angus Forbes, environment and infrastructure convener, welcomed the additional funding but called for harsher penalties for fly-tippers to stop public money being wasted in the future.
He said: "I am really pleased to see this fund set up by the Council, I have been asking for some sort of help for land owners and farmers in light of the recent increase of fly tipping.
"I am also pushing the Scottish Government to contribute to this through COSLA so hopefully we will see some money coming from them in due course.
"Its really sad that we have reached the position where councils need to use public money to clear up other peoples rubbish from the sides of our roads and in my view, the answer to this lies in harsher penalties and real push in prosecuting these types of crimes by government, the police and the prosecution services"
'There is no excuse': Frustration as fly tippers dump waste in middle of Perthshire road
His Conservative colleague, Murdo Fraser MSP, also supported the set up of the new fund.
Mr Fraser said: "We saw a huge spike in unlawful fly-tipping across Perth and Kinross when recycling centres were closed following the announcement of the lockdown.
"Perth and Kinross Council have to be commended for taking this step to address the scourge of fly-tipping."
Recycling centres have now reopened across Perth and Kinross however there were still instances of fly-tipping being reported last following the dumps opening back up.
More information on how to apply for the fund can be found at www.pkc.gov.uk/article/21722/Fly-tipping-Fund