Alyth man demands action after business destroyed by floods for second time in five years
By
Sean O'Neil
August 13 2020, 8.30am
Updated: August 13 2020, 9.57am
An Alyth joiner has demanded action after his workshop was destroyed by floods for the second time in five years, costing him nearly £10,000.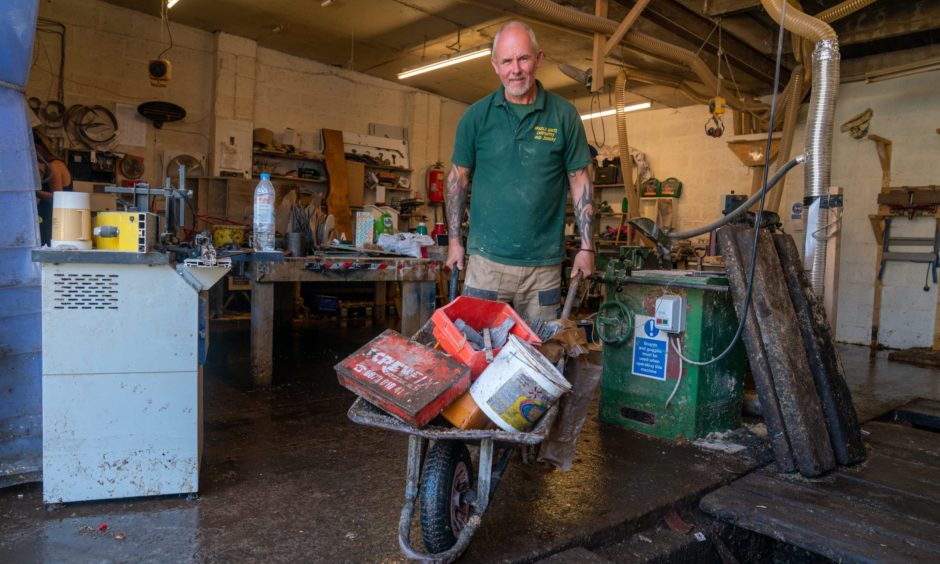 Arnold White is demanding Perth and Kinross Council dredge the burn that flows through the Perthshire town after his business was flooded on Tuesday night.
Perth and Kinross Council has pointed out local authorities are not responsible for dredging watercourses.
The 56-year-old suffered the same fate in 2015 when torrential rain caused widespread destruction across Alyth, in a storm locals were told was a once in a 200-year event.
Arnold said: "We've lost machinery and tools, possibly a van.
"At the moment we're looking at about £8,000 to £10,000 in damage.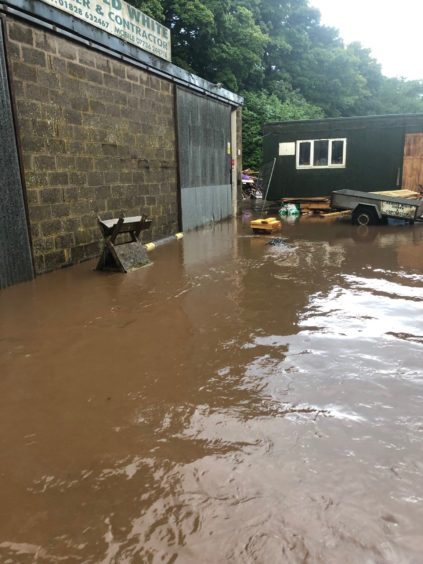 "We need this river dredged. We're just having a nightmare here.
"Last time they told us it was a once every 200 years and that's five years and nothing has been done.
"As soon as I got down here it was like a river running through the yard. I had to wade to get to the workshop."
LONG READ: Five years on, Alyth flood has left 'scar tissue' but solutions may be coming
Arnold said: "There's nothing in place to deal with this.
"I'm 56 and when we were kids they dredged the river and we never had flooding.
"If you speak to any local they will tell you that the river needs to be dredged and they want it done."
Another resident, Ryan Mollison said: "The burn had overflowed causing much concern in Alyth.
"My granny, who was affected five years ago, was mentally stressed and was getting help from neighbours to help stop the water.
"It only got to her path but luckily they were prepared. Everyone was mucking in, taking sandbags to people and help clearing up.
"Being told this was a one in a 200-year flood really causes concern with how many times it's been very near and (it was) very close to what happened five years ago.
"Some homes ruined and businesses effected yet again. Sepa really need to work out what can be done."
Residents also called for action in August last year when the town was hammered by a six-hour deluge that again caused the burn to bursts its banks.
VIDEO: 'People were in tears' – calls for action after water levels rise in flood-hit Alyth
Perth and Kinross Council told property owners that it was up to them to protect their property against flooding.
A spokesperson for the local authority said: "We are closely monitoring the situation following last night's rain.
"We inspect the Alyth Burn every three months and carry out any clearance works where removing obstructions would help reduce the risk of flooding.
"Anyone who has concerns about the burn can contact us to report those concerns, either by calling 01738 475000 during normal working hours or 01738 476476 in an emergency situation.
"It is the responsibility of property owners to undertake installing measures to protect their property from flooding.
"We are happy to assist, and advice is available on our website regarding flood protection.
"Dredging of watercourses is regulated by Sepa and is not something carried out routinely by either local authorities or landowners.
"The modern approach to river management aims to minimise disturbance to the natural characteristics of rivers and to work with nature to reduce the risk of flooding."