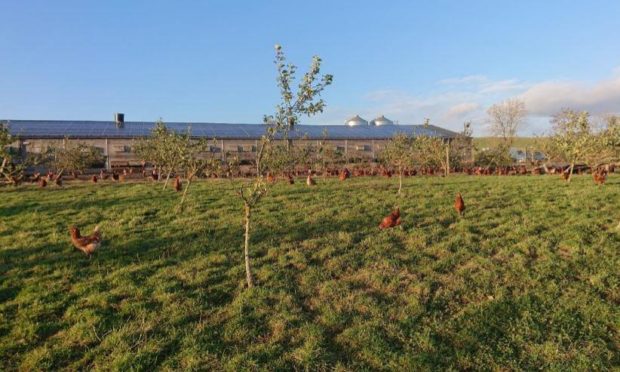 A free range chicken farm near Alyth could double in size if bosses win approval to bring in another 16,000 hens.
The George King Farm, also known as Polcalk Farm is located between the east Perthshire town and Blairgowrie.
The site is home to 16,000 birds already, which supply eggs for The Happy Egg Co. through parent firm Noble Foods.
The existing henhouse was built in 2009. However, bosses say the demand for free range eggs is continuing to grow and the time is right to expand the business.
In its application to Perth and Kinross Council, the team says many supermarkets have stated an intention to cease selling battery eggs by 2025.
The proposal would involve building a second tiered shed for the birds to roost and lay in.
Hens would still be free to leave the building through "popholes" which would be open from 9am until dusk.
The additional building would create a part time job.
Scaling up to 32,000 hens would not require an environmental impact assessment.
The farm will need to relocate a handful of their hundreds of apple, plum, pear and cherry trees to ensure the additional birds are screened.
In terms of traffic, the project would involve one lorry carrying 27 tonnes of feed visiting the farm once a fortnight.
Farm bosses say the egg trucks that collect the produce already have plenty of space for the expected increase.
Manure will be removed using conveyor belts and ploughed into nearby fields as soon as possible to control the smell.
A spokesperson said: "The design of the unit incorporated slatted perches which are located over manure belts.
"The belts are operated and manure removed three times a week which prevents build up of manure within the shed.
"The frequent removal of manure ensures there is never any volume of manure on the site to create an odour nuisance. The ventilation in the shed ensures that the climate is kept dry and air continually exhausted to prevent any build up."
The manure from the shed is stored in field middens which are located in field where manure is to be spread taking care to avoid residential houses and comply with Scottish Governments Nitrate Vulnerable Zone Regulations.
The manure is then spread on ground intended for cereals and ploughed in.
In addition to the hens the farm grows cereals, lets ground for potatoes and has a
small sheep flock.
Council planners have not received any objections to the proposals and are expected to make a decision in the coming weeks.