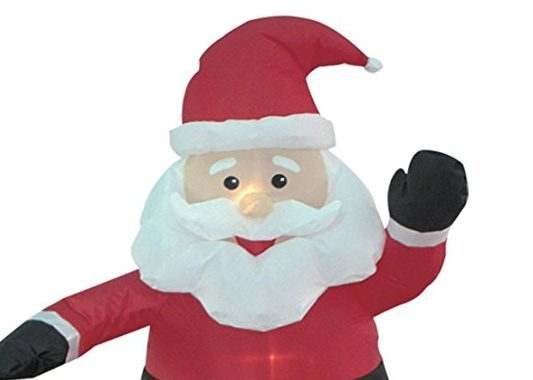 Pitlochry's busy High Street has become an obstacle course with A-boards, tables and chairs, novelty ice cream cones and even blow-up Santas in the way of fed-up residents
The crowding of pavements has been a recurring concern in the town, which remains busy with visitors thanks to the nearby Enchanted Forest event.
Attempts to restrict advertising boards have enjoyed patchy success, meaning the heart of the tourist hotspot is often difficult for pedestrians to negotiate.
People are being forced to step into the road to avoid obstructions with particular concern for mothers with pushchairs, disabled and elderly people and children.
Those keen to address the issue as a matter of urgency are staging a "walk about" to assess the scale of the problem, with elected members, council officials and community councillors taking part.
It could lead to a crackdown on businesses who have flaunted "guidelines" pleading with them to employ no more than one considerately placed board.
The issue was raised at the most recent meeting of Pitlochry and Moulin Community Council, after an elderly resident was reportedly involved in an "incident" after being forced to step into the road.
Its environment convener David Roy has been fighting for action for years.
He said: "The council does not have any policy regarding A-boards and so there has been little that can be done to regulate them. We have had to rely upon the good sense and cooperation of businesses but unfortunately the boards are still far too numerous and too many are in the wrong places.
"Many are blocking pavements and that is particularly problematic at this time of year, when there is a tremendous influx of visitors. Walking up and down the High Street you will find in excess of 20 A-boards, maybe in excess of 30, and that is in addition to tables and chairs, blow-up Santas and other advertising, such as giant ice cream cones.
"The result is that people are forced to step onto the road. That is simply not safe"
Mr Roy said members of the community had visited towns and cities as far away as Bristol to see the policies they have enacted to curb A-boards.
Councillor Ian Campbell will take part in the "walk about" but said the council wanted to avoid being "heavy-handed" with businesses that are simply trying to maximise their potential in a difficult financial marketplace.