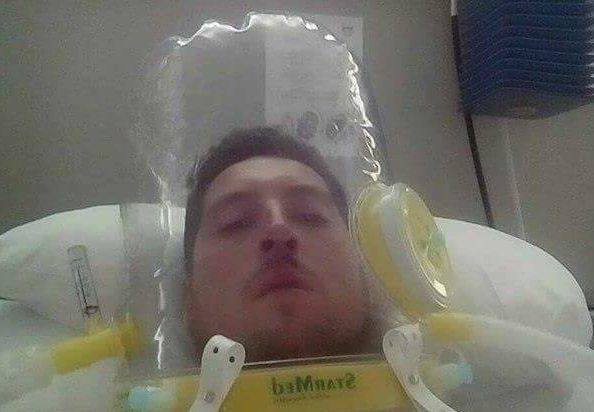 A Bulgarian farm worker has told how a rare lung disease contracted in Perthshire left him stranded in a coma thousands of miles from home.
Joiner Stefan Hitskov, 28, spent a summer working on a Blairgowrie farm to improve his English and experience a different country.
However just two weeks after arriving at Fullarton Farm in Meigle he was struck down by a throat infection.
The illness escalated and in just over a week, Stefan was admitted to Ninewells Hospital with Lemierre's Syndrome – a blood clot in the internal jugular vein, a rare complication of a bacterial infection.
He was put in an artificial coma for ten days, losing three stone, and his muscles atrophied leaving him unable to walk for a week.
Stefan said: "I had a sore throat and 40C fever, but when I told my bosses I was ill they said 'there's nothing wrong with you' and told me that I was faking it or that I'd been drinking.
"I'd been working for nine hours a day in all weathers without breaks for water, but it still wasn't as bad as some of the other workers, who were working for 14 hours a day, for 20 days without a break.
"By the fourth day of my illness I was coughing out blood and having hallucinations."
Stefan said a doctor gave him paracetamol and sent back to recover in his caravan.
He added: "A few days later I messaged my mum in Bulgaria, who got someone we know from Edinburgh to come and take me to hospital in the middle of the night."
His mother Radina then flew over to Scotland and accompanied him home.
Michael McLaren of Fullerton Farm said: "A standard day for broccoli workers is an 8-9 hour day which includes appropriate morning, lunch and afternoon breaks.
"On the very odd occasion one team will work a 12 hour day but it is only a one off and never routine. The employees receive 1-2 days off per week.
"If they have a medical problem we can arrange for them to register and attend a local practice if they wish.
"On Sunday, July 10 Stefan told the supervisor he couldn't work as he wasn't feeling well, on Monday he said he still couldn't work as he had a sore throat, his sore throat continued on the Tuesday and I said I would arrange him a doctors appointment for the Wednesday.
"We have no facilities on the farm to check if he had a high temperature but he was up and walking around the campsite and talking to others.
"On the Wednesday I took him to the doctors along with another worker to interpret for him.
"On Thursday evening he gave me the thumbs up saying he was feeling better, that Friday he was admitted to Ninewells."
Michael said his workers are all "settled and happy".