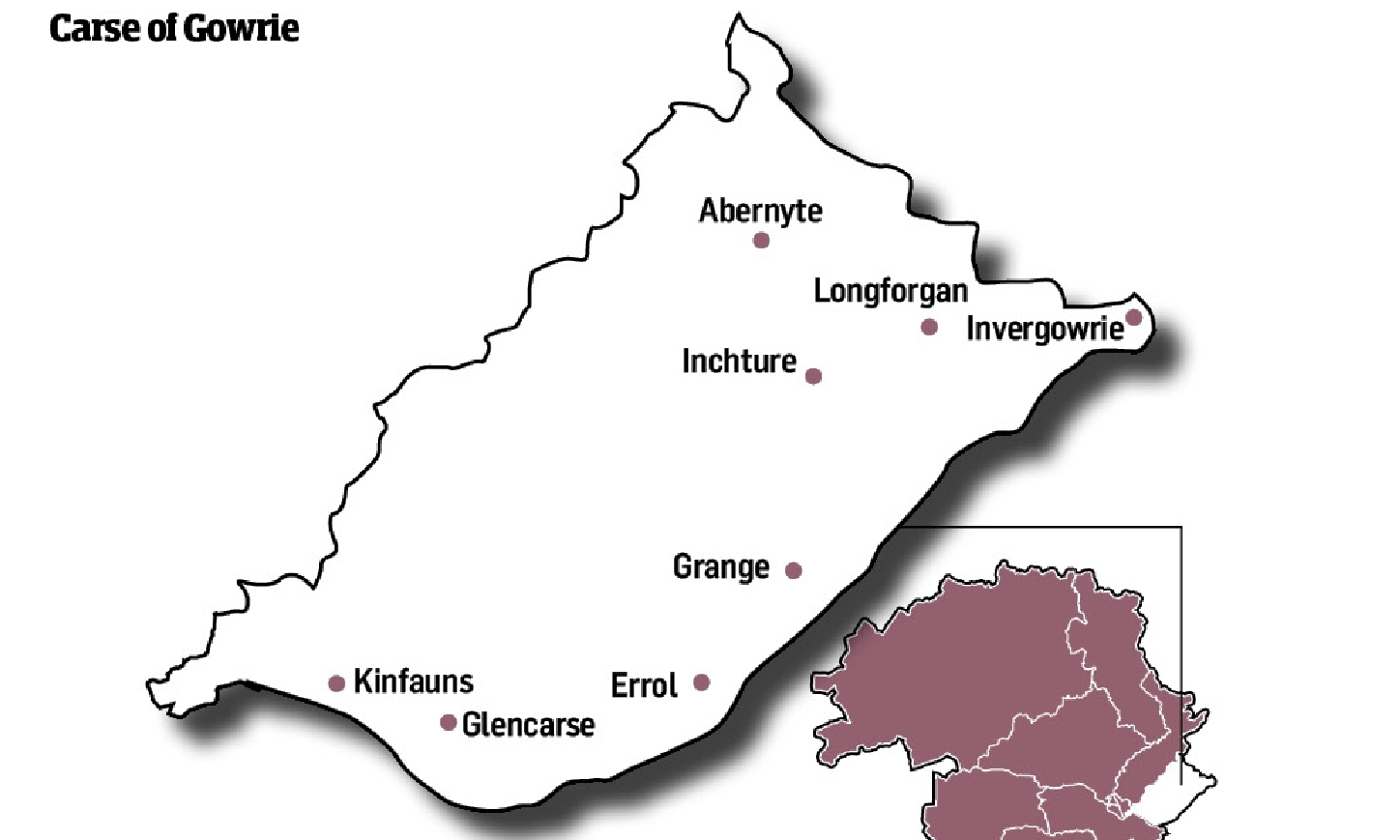 Stretching between Perth and Dundee, the Carse of Gowrie is largely a mixture of high quality agricultural land and commuter villages.
Unemployment within the Carse of Gowrie is the lowest in Perth and Kinross and the area is regarded as more affluent that much of the rest of the district.
The low-lying land stretching 20 miles on the north of the River Tay is well-known as a major area for fruit growing.
The ward has a population approaching 9,700 and has a higher percentage of working age people and a lower percentage of pensionable age population compared to Perth and Kinross as a whole.
The latest available figures reveal that in the Carse of Gowrie more than 61% of the population are of working age (16 years of age to 64) with just over 21% above the age of 65.
This can potentially be attributed to its location in relation to Perth and Dundee as this attracts working commuters.
The largest settlements in the ward are Invergowrie, Longforgan and Errol.
There has been considerable housing development in Errol in recent years and it is expected to continue which is likely to see a rise in population figures in the future.
To help with the influx of new families Errol Primary School has been extended to meet the rising school roll.
The five largest employers based on the number they employ are the Scottish Crop Research Institute, W. Glen & Son, Taypack Potatoes Ltd, Morris Leslie Group Ltd and Stewarts of Tayside Ltd.
---
Candidate profiles
The Courier invited each candidate to submit a short introduction to themselves and, if they wished, a video explaining why they deserve your vote.
 Alasdair Bailey (Labour)
Scottish Labour candidate Alasdair Bailey has a background of involvement in local issues which he would like to continue if elected.
"I come with experience gained serving on Inchture Community Council where I was able to deliver a broadband upgrade 18 months ahead of the original Scottish Government timetable," he said.
"As a father of two, I want to make the Carse of Gowrie a great place to live, learn and work.
"We saw a reduction in our bus service last year to the disappointment of many. This vital service is being run into the ground. I believe that investment is needed to make public transport attractive and convenient and only then will people use it.
"The Carse has two GP surgeries and a satellite office at St Madoes. None of these are built to modern standards. Errol's surgery is currently up for sale and the owner previously applied for planning permission to convert it to flats.
"We have excellent GPs in the Carse and if elected, I will focus on ensuring that this continues to be the case and that they get suitable buildings to practice from."
Angus Forbes (Conservative)
Businessman Angus Forbes, who has been a Scout leader and Duke of Edinburgh award assessor for ten years, is the Scottish Conservative and Unionist candidate for the ward.
"Local politics should be about helping people, solving problems, assisting people to navigate council services and provide a strong voice for constituents," he said.
"As a self-employed small business owner, I have the flexibility of time to devote to council business as well as a good understanding of the issues affecting the local economy.
"The Carse of Gowrie is a wonderful and diverse place from larger communities like Errol and Invergowrie to small rural villages and hamlets including Kilspindie and Rait as well as huge areas of farming.
"If I am elected to represent this ward then I will make sure I am readily available, approachable and willing to help with any issues."
Mr Forbes ,who is also a member of a mountain rescue team, said he was enjoying the campaign and meeting local people to hear about their concerns.
May Matheson (Lib Dem)
May Matheson, the Scottish Liberal Democrats candidate for the Carse of Gowrie ward, has lived in the area for 30 years.
A retired local government finance officer she served with Tayside Regional Council and Perth and Kinross Council..
She is a long standing member of the local Perth and Kinross Lib Dem executive committee and for the last year has served as convener.
A lifelong member and supporter of the Liberal Democrats she is a great believer in fair and equal treatment for everyone.
In particular she strongly supports access to all buildings for disabled members of the community.
If elected she says she will fight to maintain and support local services.
Beth Pover (SNP)
SNP candidate Beth Pover is a qualified social worker, having worked in the public and the private sectors with a diverse range of client groups. This has given her an understanding of community and social issues and she is currently working as part of family placement services for a neighbouring council.
Married to Douglas Pover she feels she has a good understanding of what is required to be a local councillor. She has supported him in various council and community events and, if elected in May, will work to support as wide a range of Carse groups and communities as possible.
"I am keen to play a full part in the council," said Mrs Pover, who lives at Kinfauns. "I have many life skills and experiences that will help me better represent all communities. I am very passionate about the improvement of social care and local provision and, if elected, I hope to become involved in future decisions."
She has four adult children and in her spare time enjoys participating in exercise classes, cooking, walking and Scottish history.
Douglas Pover (SNP)
Former policeman Douglas Pover is also standing for the SNP in the ward.
Brought up in Scone, where he attended RDM Primary School and then Perth Academy. He joined Tayside Police as a cadet, before the regular force in 1981.
He served for over 30 years in stations across Perth and Kinross. Before retiring, he was the Community Safety Sergeant, based in Perth and was also a major with the Army Cadet Force. He has been honoured with a number of awards over the years, including an MBE in 1995 and the David K. Thomson Community Award in 2009/10, recognising service to the community.
Elected to Perth and Kinross Council in 2012 he was appointed community safety committee convener.
"It has been my honour to represent Carse of Gowrie ward for the last five years," he said. "Over this period I have at all times responded to constituent inquiries promptly and engaged with our community councils and parent councils.
"My commitment to our communities is stronger than ever and if I am elected in May I will continue to ensure our priorities are advanced within Perth and Kinross Council."
Hilary Charles (Green)
Hilary Charles is standing in the Carse of Gowrie ward for the Scottish Green Party.