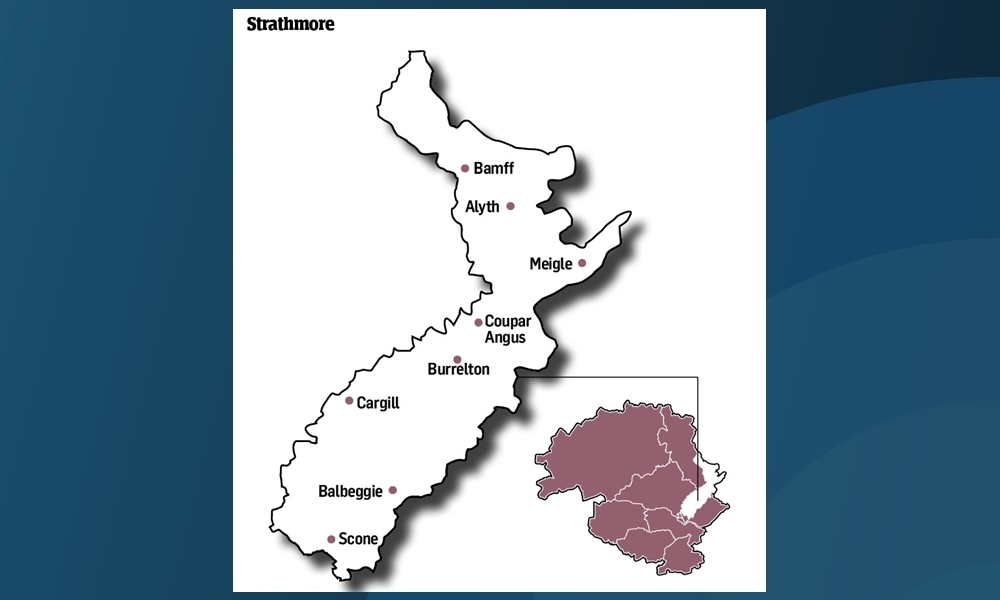 The Strathmore ward, home of Scotland's old capital, runs through a valley from the Grampian mountains in the north to the southern Sidlaws.
Approximately 50 miles in length, the second Perth and Kinross Council ward is mainly rural, centred around the three main settlements of Alyth, Scone and Coupar Angus, as well as boasting some of the country's most arable farmland.
Since the last local election, the area has been rocked by a series of tragedies and major developments.
Freak downpours in the summer of 2015 left most of Alyth underwater, while a horrific road crash on the edge of Coupar Angus prompted calls for extra safety measures.
The most explosive issue has been in Scone, where a local construction firm plans to build 700 new homes. The plan has been met with widespread opposition from villagers, many of whom have accused the council of widening the goalposts, so that the development can go ahead before construction of the long-awaited Cross Tay Link Road.
Strathmore, which has a population of just over 15,200, has a lower percentage of working age people, and higher proportion of pensionable age population compared to Perth and Kinross as a whole.
There is also a lower percentage of children within the ward.
Although stats show there are fewer Strathmore residents out of work – compared to the rest of Scotland – there are few large employers, meaning there is a lack of opportunity for work in the immediate area and a large number of commuters regularly travelling through the area.
---
Candidate profiles
The Courier invited each candidate to submit a short introduction to themselves and, if they wished, a video explaining why they deserve your vote.
Michael Gallagher (Green)
I am standing for the Scottish Green Party because it shares my aspirations for social, economic and environmental justice. In particular, it is the only party that understands the importance of real democracy at community level.
People in Scotland have absolutely no democratic control over the important decisions that affect their communities. Our 1200 community councils have no power or money. By contrast England's parish councils have a wide range of powers and budgets to match.
Additionally, the centralisation of service provision in Scotland over the past 100 years means that generations of Scots have grown up without any responsibility for the wellbeing of people in their communities. As a result, people are at great risk of becoming isolated and alienated.
I want to live in a society in which people help each other, and share democratic responsibility for the social, economic and environmental wellbeing of their local communities. However this will never happen while the Big Four parties rule the roost at County Hall. Please vote Green on May 4.
Alan Livingstone (independent)
I am married to Christine, who served as a councillor in Perth from 1999 to 2003, and we have family living in Scone. Our grandson, Isaac, plays for Scone Thistle. Many of you may know me as the locum minister of Scone and St Martin's Church or as vice-president of the Boys Brigade throughout the area.
I have been a local councillor on Perth and Kinross Council for nine years. I have been a member of planning committees, enterprise and infrastructure committees, a member of the Perth Theatre Project Board and a past member of the North Sea Commission.
Having been involved in Strathmore for a number of years, I feel that I can offer support and a positive service to the people of this community.
I have argued for and won council refusal of the application to build Almond Valley Village. I have argued against and voted against driving a road through Perth Crematorium. Very recently I successfully moved refusal of an application to build a new wind farm near Drumderg, in support of local residents. And I secured thousands of Euros from Europe for Perth Harbour.
Dennis Melloy (Conservative)
It has been my privilege for the past ten years to have been the Scottish Conservative councillor for Ward 2 Strathmore. I am delighted to have been selected once again to stand for re-election in the Local Government elections on the May 4. I look forward to working with my Scottish Conservative colleague Colin Stewart who is also standing as a candidate in Strathmore which is a large diverse ward.
I have represented my constituents on a large range of issues, such as planning, road safety, antisocial behaviour, housing and education and I am always available to listen to constituents' concerns.
The future will continue to bring many challenges, although an increasing population has been good for business, it has inevitably brought pressure on all council services.
We now face the challenge of a second referendum on whether Scotland should separate from the UK. As a proud Scot I will do all I can to oppose this unnecessary second threat to the UK. It is bad for business and bad for the economy.
A strong Scottish Conservative vote in Strathmore will send a strong unionist message to Nicola Sturgeon and the SNP.
I have a proven track record of strong commitment and of speaking up on your behalf.
Fiona Sarwar (SNP)
I have lived in North Perthshire with my husband for the last nine years, choosing this beautiful corner of Scotland to raise our two daughters.  I've worked for a number of seasons at Scone Palace and now work as an assistant to John Swinney MSP. My real passion is learning and I've recently completed a Masters  Degree in International Law and Security.
I am a member of our Coupar Angus and Bendochy Community Council. This rewarding experience has helped me gain knowledge of the particular issues affecting Coupar Angus and the surrounding area. During my time on the Community Council I helped to lead a public consultation on road safety in the town and I liaised with Elected Members and PKC officers, to secure additional funding and traffic calming measures for the Forfar Road
At the 2016 SNP national conference in Glasgow the Mid-Strathmore Branch brought forward a motion on rural education. I shaped this motion and then passionately spoke to it in front of an audience of 3,000. The motion passed and has helped to highlight the importance of all our schools, especially the specific challenges which smaller communities face.
With two children in the education system I have a strong personal interest in ensuring that this essential service achieves and maintains the highest possible standards, providing the best start in life for all children.
Lewis Simpson (Lib Dem)
As a Scottish Liberal Democrat I am opposed to SNP plans for another Independence Referendum and against Tory plans for a hard Brexit.
The local elections on May 4 offer the opportunity to vote for a local candidate like me who can look after local interests.
If re-elected I will continue to ensure that the views and concerns of my constituents are not ignored at Perth and Kinross Council meetings. I will also continue to campaign in favour of walking and cycling, road safety measures especially 20mph limits and better air quality. I will also continue to oppose large scale housing developments and the Cross Tay Link Road until the full implications of increased traffic through all the villages on both the A93 and A94 are addressed.
I pride myself on being a visible presence in the community and can always be flagged down as I cycle past. I attend a wide variety of public meetings and still hold surgeries. This allows me keep in touch and to assist where required.
If you take a few moments to vote Simpson 1 on May 4, you can expect the same commitment and personal touch that you have experienced during the previous 14 years that I have been a councillor.
Colin Stewart (Conservative)
I am delighted to have the chance to represent residents in Strathmore, my home ward, where I am a member of my local community council. I understand the problems faced by people living here and want to give them a strong voice on the council.
I believe that Perth and Kinross Council must be run differently – we need a new administration with more trust in people and communities to manage their own affairs, and which is relentlessly focused on delivering services efficiently and keeping control of its costs, and on keeping down the council tax and charges for other services like green waste bins.
I support the large majority of Scone residents, led by Scone Community Council, who oppose over-development of housing before the accompanying infrastructure is in place – if new houses are to be built, then the school and health centre need to be able to cope with new residents, and the Cross-Tay Link Road must be constructed so that there is no increase in traffic congestion or pollution in the village.
The threat of another independence referendum is bad for business and the economy. In 2014, I campaigned across the whole area for a No vote and I will continue to oppose an unnecessary and divisive referendum.
Ian Stratton (SNP)
I am honoured to have been selected to stand as an SNP candidate for the Strathmore Ward. If elected I undertake to work constructively for the good of our locality and everybody who lives here. My priority will be to make myself available to all my constituents, to listen, and to be your voice in local government.
I was born in Perth, educated at Kinnoull Primary and Perth High Schools, and lived in Perth before settling down to raise my family in Scone.
My background is in engineering where I served as a shop steward, representing colleagues, protecting their interests and promoting better working conditions. Subsequently, I worked in the aerospace sector with the Ministry of Defence site at Almondbank.
I'm aware that imaginative, progressive politics will be required if we are to fulfil our responsibility to future generations. I am excited by the prospect of a new era of cooperation and coordination between SNP administrations at local and national levels, and the potential to build more cohesive, vibrant and prosperous communities in a more just, more inclusive, more sustainable nation.
The seismic shift in Scottish politics around the 2007 and 2011 Holyrood elections reinvigorated my lifelong interest in politics. By 2012, I was heavily involved and actively campaigning – engaging with people; talking about problems; discussing solutions; sharing ideas, hopes and aspirations.
Now there is a job to be done, creating the society we desire and deserve and I want to help build it.