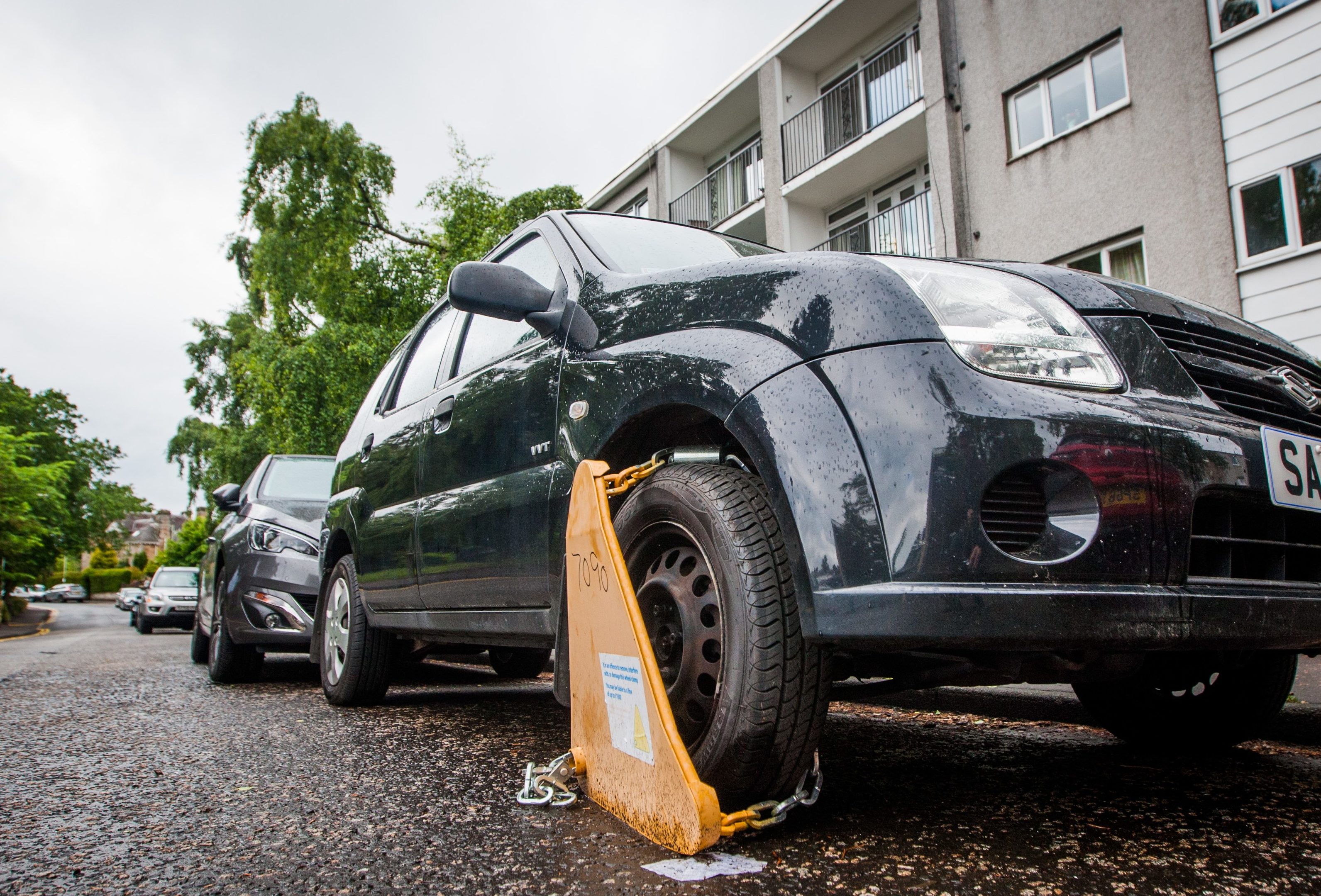 Dozens of cars have been clamped on the streets of Perth as part of a major tax crackdown.
The DVLA has targeted car tax dodgers in the Fair City in a two-week enforcement campaign.
The vehicle agency said it had wheel-clamped 38 untaxed motors across the PH1 postcode zone.
Many of the cars now face being impounded.
A DVLA spokeswoman said: "It's an offence not to tax a vehicle before it's driven on the road.
"While DVLA does tell drivers when their tax is due by sending reminders and last chance notices, action will be taken against those who don't pay their vehicles."
She said: "Nearly 99% of vehicles on the road are taxed correctly, so the overwhelming majority of motorists pay their tax."
She said the operation in the Perth and Perthshire patch – being carried out by clamping firm NSL – was ongoing.
Owners of the clamped vehicles will have to pay a release fee of £100 and, if they can't show the vehicle has been taxed, a surety fee of £160.
The surety fee is refunded if the motorist is able to prove that the vehicle has been taxed within 15 days of its release.
DVLA say vehicles are impounded if the fee is not paid within 24 hours of a vehicle being clamped.
The release fee then rises to £200 — along with a storage fee of £21 per day.
Again, a surety fee of £160 must be paid if the motorist cannot show that the vehicle has been taxed.
Several clamped vehicles were spotted in the North Inch area of the city, around Hay Street, Muirton Place and Balhousie Avenue.
Laminated notices and leaflets have been left on the windscreen, advising motorists where and how they can pay.
The DVLA routinely visits different parts of the country as part of its day-to-day enforcement, clamping or impounding any untaxed vehicles seen on the road.
They are now required to electronically scan a vehicle's registration plate, after paper tax discs were abolished in October 2014.
Last month, more than 50 vehicles were clamped as part of a similar operation in Dundee.
Clamping of untaxed cars has nearly doubled since the paper tax disc was scrapped. Drivers say they forget to renew without the handy reminder on their windscreen.
A study in December 2016, showed an 80% rise in clampings across the UK, at more than 9,000 a month.
In the six months before the physical discs were stopped, the figure was 5,100 clampings a month.