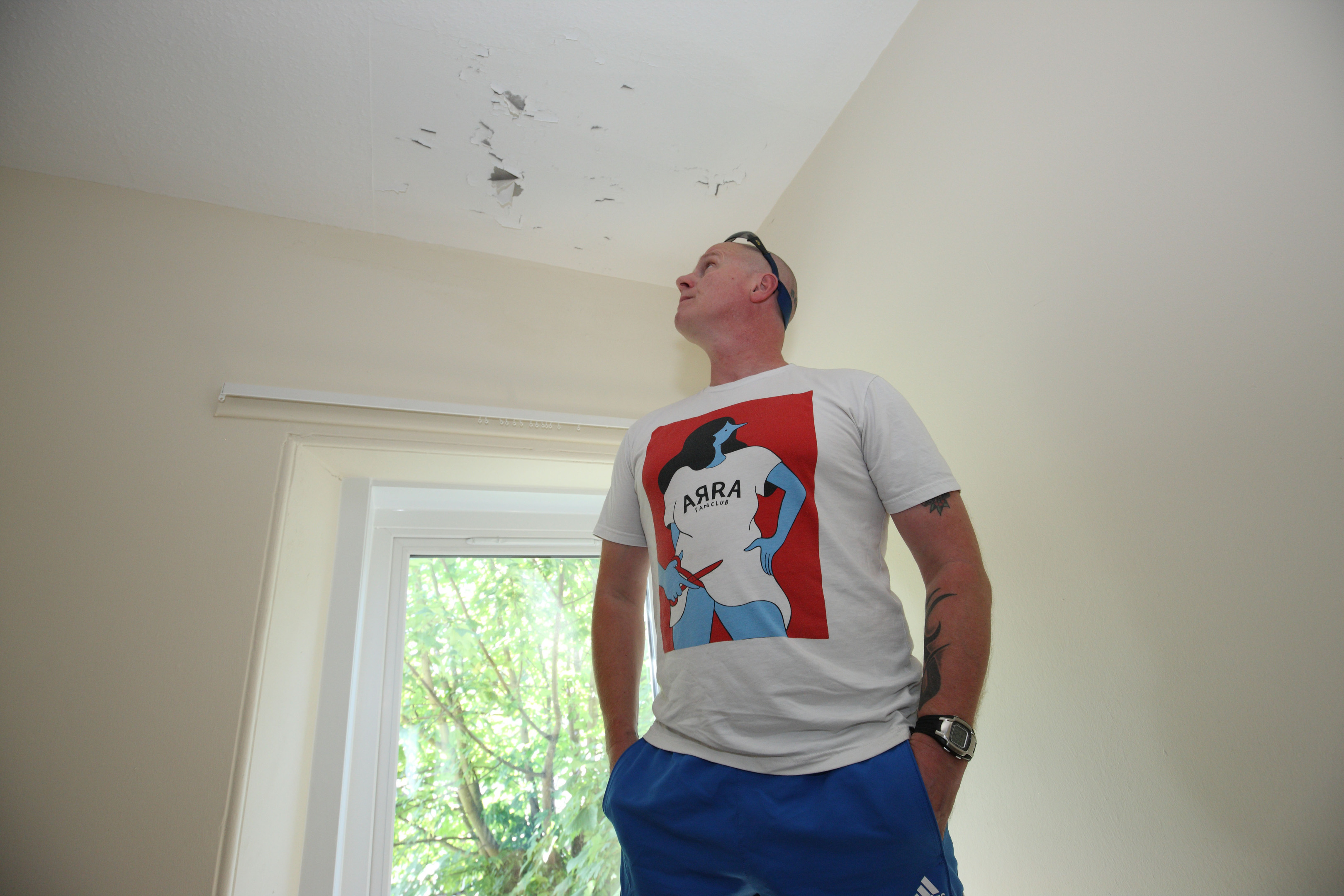 A lorry driver claims he has been forced to sleep in his vehicle because a roof leak at his council property has gone unfixed for 18 months.
Craig Donald, who previously battled with SSE over a bill for a non-existent gas supply, says any clothes he leaves in his home are left smelling damp.
The former solder, who served in the Royal Corp of Transport, currently stays in Tulloch Terrace in Perth.
He said: "This started in January 2016. We had really bad weather, there was snow on the roof and when it turned to rain it came through the ceiling – a big massive, wet damp patch.
"It was bubbling, it was stinking. I've moved all my clothes out and ripped up the carpet because every time I came home there was a damp smell.
"There are some weekends I sleep in my lorry because it's uncivilised to live in there. I have more of my clothes in my lorry than in my own house.
"The council say it's not uncivilised, they believe it's still habitable – but that all depends on your standards.
"One person told me to put a basin under to catch the water – they were just arguing rather than addressing the issue.
"I got a letter from the council stating I'm not engaging with them equally – but I don't think they get the definition of what 'long-distance lorry driver' actually is."
The 43-year-old added his child's health was being affected by the state of the property.
He said: "My son has asthma. I get him every second weekend but since I've not been taking him to the house his cough has cleared up."
A spokeswoman for Perth and Kinross Council said: "While we do not comment on individual circumstances, what we can say is that we are aware of this issue and have been in contact with our tenant to try and arrange a time for repair works to take place.
"The council is committed to providing our tenants with the best possible repairs service and believe our excellent record is evidence of this.
"When we are unable to access a tenant's home after a number of attempts, a letter is sent out to advise the resident that the work will be cancelled and should the works still be requested, contact should be made with the council's customer service centre on 01738 475000."