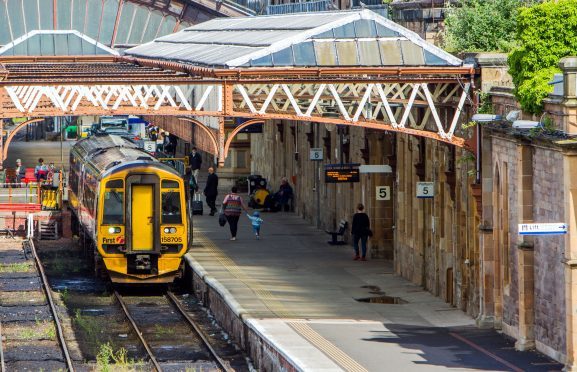 Councillors have been urged to drop calls for a new rail line between Perth and Edinburgh and take a more "pragmatic approach" to improving links.
More realistic targets might include the reopening of the railway from Cowdenbeath to Kinross, a new station at Kinross and an integrated coach service from there to Perth railway station, a Perth councillor has claimed.
The proposals were contained in an amendment put forward to a motion to the full council this week.
Kinross-shire councillors Callum Purves and Mike Barnacle had asked members to consider a plea that the leader of the council, Ian Campbell should write to the Scottish Government expressing the local authority's desire for a review of the Edinburgh-Perth rail link question.
Their motion,  part of a wider campaign to see the line between the capital and Perth improved, said reopening the line could cut 35 minutes off existing journeys and build Perth's position as an inter-city transport hub.
Mr Purves said reinstating the line – which closed in the early 70s to make way for the M90 – and opening stations at Kinross and Bridge of Earn would be "a real boon" to the local economy.
However, Perth councillor Andrew Parrott tabled an amendment which pointed out that the reinstatement of the rail line between Perth and Edinburgh via Kinross was "very unlikely" given previous infrastructure decisions.
He said he applauded the intention of the motion but believed it harked back to a golden era which "never existed".
Brandishing an ancient timetable he said that journey times in the past were not as good as was often suggested.
His amendment recognised the significant benefit a park and ride station at Kinross would have and said the council should push for the reopening of the railway from Cowdenbeath to a new Kinross station south of the town together with an integrated coach service from there to Perth railway station.
This, he said, was "practical, reasonable and doable".
"I applaud investment in rail but I believe we have to be pragmatic," he said.
Councillor Henry Anderson pointed out that much of the old line at Bridge of Earn had been built over and new rail lines could cost between £20 million and £80m per mile.
However, Councillor Parrott's call for pragmatism was ultimately defeated as the full council backed the motion calling for the Perth to Edinburgh option to be explored by 22 votes to 15.