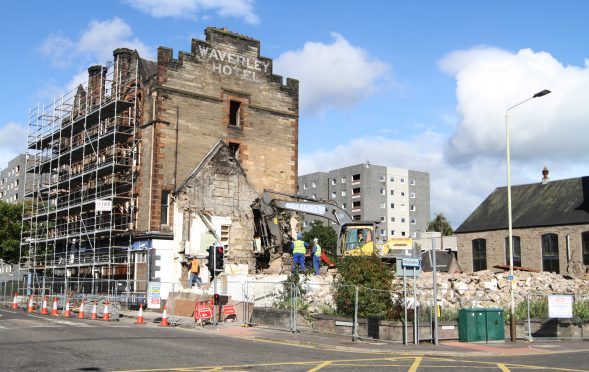 A high-profile Perth construction project will not be delayed by an archaeological ground investigation, it has been confirmed.
Perth and Kinross Council has said there is no requirement for a dig at the site of the former Waverley Hotel as it lay outside the historic environs of the city of Perth.
Prior to its demolition, a team of experts visited the hotel in 2016 to carry out a historic building survey.
They took detailed pictures and drawings of the interior and these have now been archived.
There will, however, be no further historic investigation on the now-cleared site.
A spokeswoman for Perth and Kinross Council said: "The site has never been considered suitable for below-ground archaeology because it was outwith the medieval core of Perth.
"It was further to the north of the site of the chapterhouse and beyond the Jacobite defences. The site was also not on a historic route-way as the medieval roads in Perth lay to the south and north."
The site was hidden under the hotel building for more than 150 years until it was ripped down in recent weeks.
The Waverley Hotel opened its doors as a hotel around 1900 but the original building on York Place dated back to around 1850.
Now cleared the corner site on York Place/Caledonian Road  will be used for businesswoman and philanthropist Ann Gloag's £3.6 million plan to build a multi-use hall and gym.
The new facility will be linked to the adjacent Trinity Church of the Nazarene, of which Ms Gloag is a member.
Once one of Perth's most  popular hotels across from what was the old cattle mart, the Waverley became a homeless hostel in 2011 but closed for good that year.
Since then the building had deteriorated and become an eyesore with the writing on the wall after it was badly damaged in a fire in November 2015.
Planning permission was granted last year after council officials agreed that the best way forward for the shell was demolition which was carried out over the last three months.