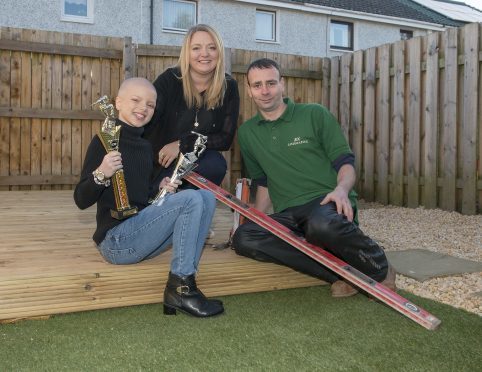 A brave young Perth girl who is battling cancer has thanked a local businessman for an "amazing" early Christmas present.
Lily Douglas, 10, and mother Jane said they were overwhelmed by the transformation of the garden of their North Muirton home undertaken by Bobby Netherington of local company BN Landscaping.
When he heard from a mutual friend that Lily's garden had become an unmanageable "jungle" he offered to give some advice – but ended up giving the entire space a makeover for free.
He enlisted the help of his suppliers – MKM in Perth, MGM Timber, Travis Perkins and Springlawn, Almondbank – and every inch of the garden has been revamped with new fencing, decking, artificial lawn, gravel and paving installed.
"It is fantastic, we can't wait until next year when the weather is better and we can make full use of it," said Jane.
Garden furniture will finish off the low maintenance space, but keen dancer Lily has been making full use of the decking as her own stage.
Despite receiving ongoing chemotherapy at Edinburgh Sick Children's Hospital Lily is still managing to compete with great success, winning two top trophies at the Scottish Street Dancing Championships in Edinburgh at the weekend.
The latest trophies brings Lily's haul up to an impressive 94 and they take pride of place in her bedroom overlooking the garden.
The St John's RC Primary pupil is delighted with the new-look surroundings.
"It is really good, I like it much more," she said.
Mr Netherington said it took him around a week to carry out the transformation.
"I was more than happy to do it," he added.
Lilly and her mother said they planned to thank Mr Netherington with a night out soon.
The youngster was diagnosed with cancer only a few weeks after she complained of a sore lump on her shoulder.
As well as the regular chemotherapy Lily has had an operation on her shoulder and will start radiotherapy next year.