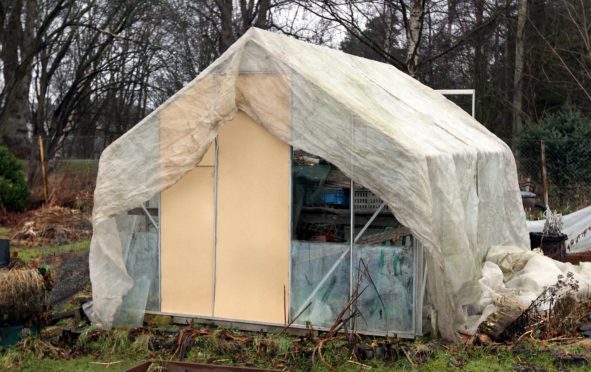 Youngsters have caused more than £4,000 worth of damage to allotments on Perth's Moncreiffe Island, targeting greenhouses and gates three times in quick succession.
Allotment owners – many of whom are elderly and female – have been left distressed by the wanton vandalism, the latest of which saw two greenhouses have their glass panes smashed.
Vandals ransacked the area in early December, when they smashed hundreds of panes of glass at Perth Working Men's Garden Allotments and also tore down gates and burned them.
As a result of another bout of vandalism two weeks ago, police increased patrols on Moncreiffe Island and deployed a community officer in a bid to stop the spree of destruction.
But the latest incident happened between 3.30pm on January 26 and 11am on January 27.
Kenny Orrock, president of Perth Working Men's Garden Association, is appealing for the vandalism to stop, as he feels it is having a detrimental effect on many of his members.
"We've now seen more than £4,000 worth of damage overall caused by this vandalism," he said.
"The fact that many of the plot-holders are elderly and ladies is significant. It has been very distressing for them to be confronted with damaged property (greenhouses and gates), when all they want to do is to tend their plots peacefully.
"The whole affair has been so unnecessary – it's not as if those breaking in were after any produce – it was simply mindless damage.
"Obviously they have been bored and the site is an easy target, being in a secluded position."
Mr Orrock said Perth Working Men's Garden Association appreciate police "taking notice" of the situation and also praised help from other quarters.
"We also appreciate very much the practical help we have received from the community payback team in bringing new glass across and in making new wooden gates," he added.
"Let us hope that any police arrests will send out the appropriate message and we can draw a line under the whole business."
Chief Inspector Ian Scott, area commander for Perth and Kinross, described the incidents as "needless vandalism" and vowed to catch those responsible.
"We are keen to prevent such crimes and would encourage parents to challenge their children's whereabouts and intentions, particularly over weekends," he commented.
He stated that inquiries are continuing into the vandalism.