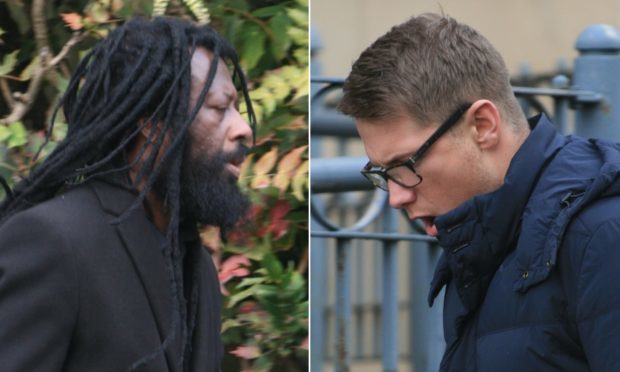 Two men who raked in thousands of pounds a week selling potentially killer "legal highs" from town centre shops in Perth and Angus have been jailed for a total of nine years.
Liston Pacitti and Paul Brocklehurst were handed the lengthy jail terms after they admitted supplying "new psychoactive substances" to customers aged as young as 13.
Two users were left in comas after taking a substance known as "Psyclone" sold by Brocklehurst.
His shop in Perth was exposed by a BBC documentary, The Deadly World of Legal Highs, and both men were repeatedly warned by police that their products were endangering their customers.
But the brazen businessmen branded their products "herbal research chemicals" and carried on regardless – with workers telling police the businesses were taking in up to £6500 a week.
In court today, Brocklehurst tried to deny he had committed a crime – comparing himself to Mandela and Gandhi in a bizarre speech in which he claimed "Scottish justice" was on trial.
A sheriff jailed the pair for four-and-a-half years each, telling them: "You were lost to human decency, placing personal profit above the health of those from whom you sought to make that profit."
Dundee Sheriff Court heard that two men who took Psyclone fell into comas with a Glasgow coma scale score of seven – indicating a severe injury. It also heard that two other customers aged just 14 and 13 were found heavily under the influence of substances sold by Brocklehurst's shop.
The 13-year-old boy was rushed to hospital with heart palpitations, a racing pulse and hallucinations that the walls were moving.
Forensic experts said the substances the pair sold can lead to severe physical effects and even death.
Brocklehurst, 62, of Glen Afron, Tregarth, Gwynedd, Wales, and Pacitti, 28, of Deveron Road, Aberdeen, both pleaded guilty on indictment to charges of culpably and recklessly supplying new psychoactive substances to the danger of health and life.
Brocklehurst's offences were committed between July 3 2013 and July 29 2015 at his shop, This 'N That, in County Place, Perth.
Pacitti's were committed between July 3 2013 and December 7 2014 at his stores, Declaration and Evape-O-Lution in Brothock Bridge, Arbroath and The High Life and Evape-o-Lution in High Street, Montrose.
Sheriff Alastair Brown jailed the pair for four-and-a-half years each.
He said: "You set up shops from which to sell the substances. On the narrative given to me, the daily takings in those shops ranged from several hundred pounds to £2500.
"The existence and operation of those shops caused serious concern to the communities in which they were situated.
"Community leaders and members of the public asked you to stop and protested against the operation of the shops.
"The police warned you about the effects of the substances you were selling.
"The local newspaper ran a series of articles about the misery you were causing. The BBC highlighted the problem in a documentary.
"You thumbed your noses at them all.
"It is perfectly clear that you were exploiting cynically and with no regard for the effects on your customers or the wider community, what you thought was a gap in the law in order to make significant amounts of money. But you were wrong.
"In setting up shops to supply substances which you knew were dangerous and in persisting with your enterprises in face of public concern, media concern and warnings from the police, you demonstrated that you were lost to all human decency, placing personal profit above the health of those from whom you sought to make that profit."
---
"I'm just a little midget. Just a fly"
Speaking in his own defence after his lawyers withdrew from acting for him, Brocklehurst said: "I believe it's not myself on trial – it's the Scottish legal system that's being tested.
"If we look through history courts came up with decisions – time will be the decision maker.
"If we take Gandhi or Mandela or other renowned people I'm just a little midget. Just a fly.
"Justice is justice and the law is the law.
"I'm not in the same league as these illustrious figures in history but it is only time that will decide if the system is fair or unjust."