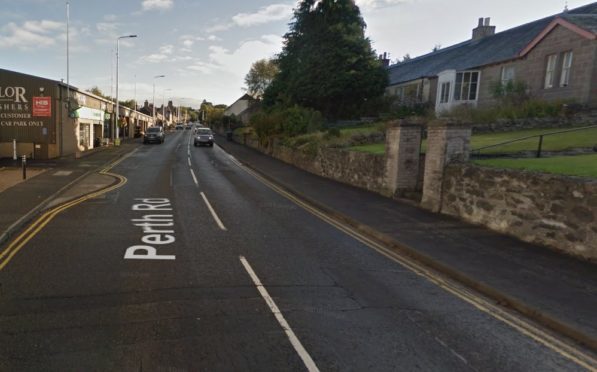 Police are hunting a man who was seen kicking a cat into traffic on a busy Perthshire road.
A startled motorist narrowly avoided hitting the black-and-white animal as she drove through Scone on Sunday evening.
She said the cat was kicked by a man walking a large dog.
When she confronted him, she said he "smirked" and walked away.
The incident, which happened at around 9pm outside the Perth Road Co-op store, is being investigated by police.
Officers have urged local businesses to check their CCTV for potential evidence.
The driver, who didn't want to be named, said: "I was just driving on my way into Perth and as I came around the bend, near the Co-op, I saw the man kick the cat on to the road.
"I had to hit the brakes or I would've hit the poor thing."
She said: "It ran up someone's drive and into their back garden. I'm not sure if it was it's home or not.
"It gave me the fright of my life, I was just thankful I stopped in time. God knows what state the poor cat is in."
The motorist stopped and pulled down her window to confront the dog walker.
"He just smirked and walked off," she said.
The man responsible was thought to be in his 20s and was wearing a navy hoodie and grey jogging trousers. His dog was described as light brown and about size of a Labrador.
A Police Scotland spokesman said: "We are aware of the incident and will be making inquiries."
The incident has angered animal lovers online.
One posted: "What a vile, evil person. I hope he is found, named and shamed.
"I hope the wee cat is okay and its owner gets it safely home."
Anyone with information is urged to call police on 101 or freephone Crimestoppers in confidence on 0800 555 111.