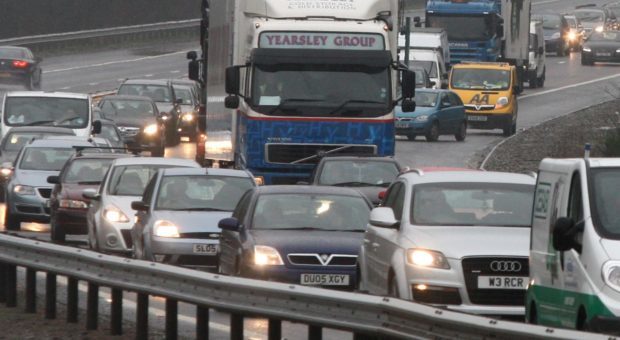 Roadworks taking place at the Broxden roundabout caused major traffic congestion on the outskirts of Perth.
Motorists experienced miles of queues with traffic nose-to-tail on the by-pass from Craigend to the Broxden roundabout.
The traffic stretched back as far as the slip roads from the Friarton Bridge and the M90 motorway from Inverkeithing.
Bear Scotland, who are behind the £900,000 roadworks, conceded it was "inevitable" there would be disruption as a result of the month-long scheme, which began on June 2.
The six-phase scheme includes three, 24-hour weekend projects.
Bear Scotland has said the expansive roadworks project is required to repair roads following the "extreme winter" conditions the country faced. The work involves resurfacing and improving road markings.
A spokesperson for Bear Scotland advised motorists to use both lanes of the roads in order to lessen congestion.
"The contraflow system is essential to ensure all our teams and the public are kept safe during the roadworks," she said.
"We would encourage people to utilise both lanes on approach to the roadworks before merging in turn to minimise queue lengths.
"This phase in the project is set to be completed by Monday morning."