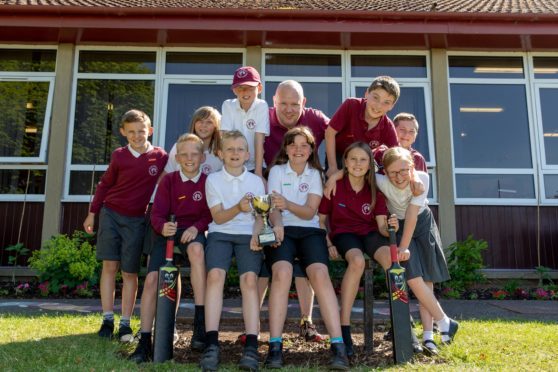 A school cricket coach who led his pupils to victory despite never playing a game has stepped down.
Portmoak Primary School youngsters bade a fond farewell to Alan Surtees after 14 years in the role.
The father-of-three started off teaching football at the Kinross-shire school but took over the cricket club 10 years ago when the teacher who set it up left.
Alan coached hundreds of children during his time, juggling the role with nightshifts as a prison officer and turned the fledgling club into a national success when they won Cricket Scotland's national primary six competition in Perth earlier this month.
More than 800 schools competed at a local and regional level with Portmoak winning the Kinross and then Perth and Kinross tournaments, before taking home the trophy in the Scottish final.
Alan said: "When we started we weren't very good but we kept trying and practising and got better over the years.
""When you look at some of schools we beat they are quite big, renowned schools so it was a really big achievement for us."
Alan's three sons attended the school but with the youngest, Benjamin, now 15, he decided to step down on a high.
"I went back after the Christmas holidays and decided this would be my final year," he said.
"I don't know many of the kids coming up and my youngest is doing his Duke of Edinburgh award so I want to get more involved in that."
The club will be left in safe hands as Benjamin is considering taking over the reins from his father, with the help of Live Active Leisure coaches.
Despite the hard graft, Alan has no regrets about devoting more than a decade to the club and is now considering taking up the sport as a hobby.
"I've never played a game of cricket in my life, it's always only been for the kids," he said.
"I have worked a lot of nightshifts so there were times it was tiring but when you see the kids' faces when they won a tournament or competition it makes it all worthwhile.
"One of the parents from this years' team plays and he asked me to come along for a game so I'll give it a bash.
"Maybe I'll start playing now that I have more time. I don't think I'll be able to play as well as I can coach though."