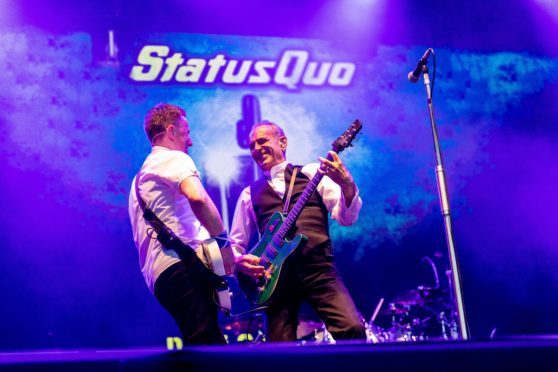 Retro rockers Status Quo have brought the curtain down on Scotland's most colourful music festival for another year.
The legendary act performed a hit-packed headline set to close three days of fun and live music in the grounds of Scone Palace.
More than 20,000 people descended on the historic crowing place of Scottish kings for the '80s-themed Rewind Scotland extravaganza, which is now in its 10th year.
PICTURES: More than 20,000 flock to Scone Palace for Rewind Festival
After a soggy start on Friday, the skies cleared for sunshine and soaring temperatures on Saturday and Sunday.
It was the first event for new operators Broadwick Live, who took on the franchise last year. Apart from changes to the lay-out and added audience participation between sets, the new team stuck close to the festival's winning formula.
The main stage was opened on Saturday by Fife rockers The Skids, the first time they have played the festival.
During the set, frontman Richard Jobson paid tribute to guitarist and co-founder Stuart Adamson, who died in 2001.
"He certainly would have loved to have been here," he said.
Crowds on Saturday also went wild for pop icon Tiffany, whose biggest hit I Think We're Alone Now was released in 1987.
Former New Order and Joy Division co-founder and bassist Peter Hook also proved a huge draw, performing Manchester anthems such as Temptation and Blue Monday.
Day two headliners OMD also went down a storm, with energetic versions of timeless hits Forever Live and Die and Electricity, to name but a few.
Day three was opened by Coatbridge duo Hue and Cry, followed by 2-Tone heroes The Selecter.
Sunday's line-up also featured '80s favourites Flock Of Seagulls, Heaven 17, UB40 and the Boomtown Rats with Bob Geldof.
One of the highlights of the weekend was Bonnie Tyler who belted out power ballad Total Eclipse of the Heart, as well as famous hits from the Footloose soundtrack.
The retro theme was warmly embraced by the crowds, who dressed to impress throughout the weekend.
Among the more bizarre sights was Ming the Merciless from the 1980 Flash Gordon film, the sitcom alien Alf and A-Team star Mr T.