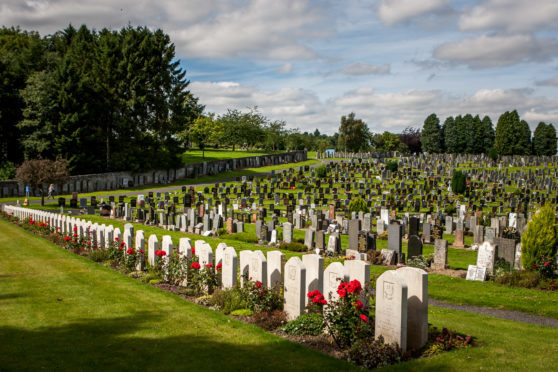 Gates to Perth's main cemetery will be closed to stop disrespectful drivers using the historic site as a rat run.
Cars, including for funerals, will now only be able to access Jeanfield Cemetery from one side, sparking anger from those who visit the graves of loved ones.
The gates at the Rannoch Road end of the cemetery, home to the city's Polish war graves, will be locked and the only access for vehicles will be from Jeanfield Road.
Perth and Kinross Council made the decision due to concerns about pedestrian safety, as cars are regularly seen speeding through the cemetery to avoid traffic.
Councillor Angus Forbes, convener of the local authority's environment and infrastructure committee, apologised for the inconvenience to "legitimate visitors".
He added: "A number of potential accidents have been reported by staff and visitors to the cemetery and because of this we have had to resort to closing one of the vehicular access points.
"It is disappointing that motorists feel that driving through places of rest by way of a shortcut is acceptable and I believe that the majority of residents would agree that it shows a marked lack of respect and is not an appropriate use of the cemetery."
The pedestrian gate at Rannoch Rad will remain open.
Mourners took to social media to express their outrage at the "disrespectful" rat runners who have made it difficult for them to visit graves.
One woman said on Facebook: "Quite right, who in their right mind does this? So disrespectful."
Another said: "Who does this? Why? Now it's going to be very difficult to get a disabled person to a graveside because of simple minded fools."
One commenter called the shortcut an "absolute disgrace".
Jeanfield is home to 380 graves of Polish World War Two pilots and more than 570 Commonwealth soldiers.
The Poles came to Scotland after the fall of France in 1940. They were reformed into the 1st Polish Corps and given the task of defending the east coast of Scotland against the threat of an invasion by Nazi Germany.
A large stone memorial beside the graves is dedicated to those who lost their lives in the struggle for freedom. It is inscribed with the words "Eternal glory to the Polish soldiers who died in 1939-1945 for our freedom and yours."