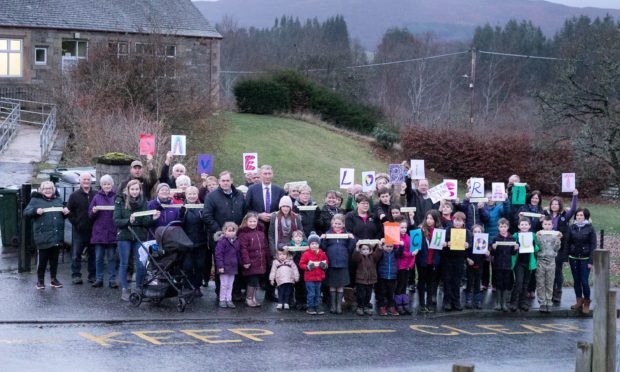 Parents  of pupils at an under-threat Perthshire school are calling for a nursery to be opened to bolster numbers.
The future of rural Logierait Primary is being weighed up by Perth and Kinross Council as part of a review of ageing and under-capacity schools.
Logierait is operating at 32% capacity, with just 16 pupils. Three options are being considered: closure, a review of the catchment zone, or "do nothing".
Parents hope a nursery would encourage more parents to send their children to Logierait.
Primary school aged children can currently attend, while nursery and high school pupils travel five and a half miles to Pitlochry.
Carrie Kemp, a mother of three and member of Logierait Primary School parent council, said: "We are only a small school so we are doing everything we can.
"We know we are under capacity and that's why we are in this situation. We do really want to encourage more families here but we can't do that without the school.
"Kids go to Pitlochry for nursery and they settle in and make friends so parents decide to keep them there when they go to school. It's completely understandable but it makes it really hard to justify keeping the school open.
"Given the choice I'd send my son to nursery at Logierait in a heartbeat."
---
>> Keep up to date with the latest news with The Courier newsletter
---
Perth and Kinross Council hosted a public meeting at Mid-Atholl Hall, Ballinluig to explain the options to people living in Logierait, which Carrie said was helpful for those whose children are not currently at the school.
"The meeting actually went really well, we're all pleased," she said.
"We counted 77 adults attending which is great since the school only has 16 pupils.
"I put a call out asking for as many people as possible to have their say and people responded really well. To be fair to the council it was a really positive meeting and the staff were all really helpful.
"When we were asked to given additional comments a lot of us said we would support a nursery and it would improve the number of pupils at the school so hopefully the council will consider it."
The school shake-up has already led to the recommended closure of five primaries.
Councillor Callum Purves, vice-convener of the council's lifelong learning committee, said: "The informal drop-in consultation session regarding future options for Logierait Primary School was well attended by parents, pupils and the wider local community.
"I would like to thank everyone who came to the session to express their views and ask questions.
"The feedback from this session, together with any subsequent comments from members of the public made online or in writing, will be considered as part of the ongoing school estate transformation process.
"I would ask anyone who wishes to submit comments to us to make sure they are sent in by Friday December 14."