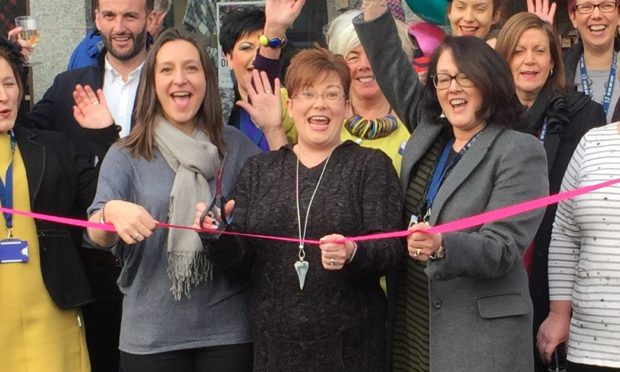 Perthshire accountant Debbie Matthew did not know her life was about to change completely when she was getting ready to go on an Easter egg hunt in 2016.
She was about to experience a sudden stroke that would leave her "like a baby" and having to learn how to walk, talk and feed herself again.
The 43-year-old self-employed business woman from Comrie succeeded and was the guest of honour at the opening of a shop to raise money for the charity that supported her through her recovery.
She cut the ribbon and officially opened the new Chest Heart & Stroke Scotland (CHSS)  store at 173 High Street, Auchterarder.
Debbie, who still has no feeling in her right foot, said: "It was a complete honour to be asked. It was special to be asked to open my local shop and be part of it."
With her 10-year-old son Finlay, Debbie has been campaigning to show strokes affect younger people as well as those who are older.
She initially lost all feeling down her right hand side, spending one week in a high dependency unit and the following seven in the Perth Royal Infirmary's stroke rehabilitation unit.
"I couldn't speak. I couldn't move. It was all very, very quick. It was terrifying."
After that, she said support from the nurses at Chest Heart and Stroke Scotland helped to get her through.
"I could just call and ask them any question at all. The number of times I have been in tears on the telephone, asking them personal questions that I didn't want to take to a doctor. They were just fantastic."
Debbie and her son were invited to open the Auchterarder shop, with a last minute bout of ill-health preventing Finlay from helping Debbie cut the ribbon.
"I just want the world to know things to help can be done," she added.
Jay Hogarty, the charity's director of retail, said: "We are delighted to be opening a new boutique store in Auchterarder. We have received great support from the local community already with lots of interest in the new shop.
"Our shops have a vital part to play in raising funds to help make a real difference to the people we help every day throughout Scotland and their quality of life.
"We want to make sure there is no life half lived for anyone affected by chest, heart or stroke conditions."