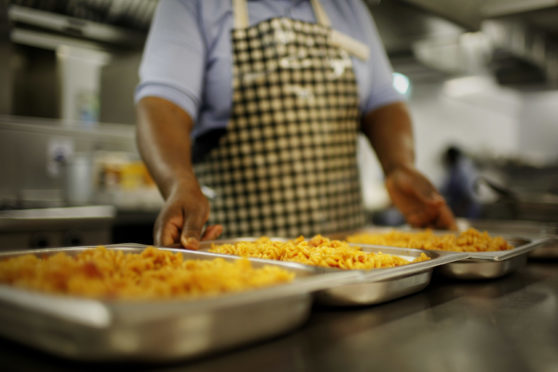 Plans to scrap school kitchens in Perth and Kinross could lead to less business for local farmers and reduced life skills among young people, an MSP has argued.
Mark Ruskell, Green MSP for Mid-Scotland and Fife, has said the controversial plans to close school kitchens in Perth and instead use frozen meals prepared in a newly renovated Tay Cuisine kitchen in Dundee would have wide-reaching effects.
Perth and Kinross, Dundee and Angus councils are working together on the cost saving plan, which puts around 50 catering positions in Perth and Kinross in danger.
Speaking after a Holyrood debate on health education, Mr Ruskell claimed centralising the kitchen hinders the potential to educate children about the food they eat and disadvantages local producers.
"Making procurement contracts available to local farmers can help support the rural economy, and involving children in the planning and preparation of school meals helps meet a range of learning outcomes as well as giving kids vital life skills," he said.
"This is all put at risk by this outsourcing contract, which puts business interests ahead of that of our local children.
"It's time the council urgently reconsiders this school meals proposal".
The warning comes as an SNP-led petition, calling on the council to scrap the plan, has reached almost 3,000 signatures.
Councillor Dave Doogan, SNP group leader, said it was a "job-killing proposal that puts the viability of a mega-kitchen in Dundee above the needs of kids and our local, hardworking catering staff."
Councillor John Duff, Conservative, said local supplies will be used wherever possible and the Dundee kitchen plan had other environmental benefits.
"If Mark Ruskell had done his homework before he made these comments he would have found that the council did not vote to close all its school kitchens. While there will be some reconfiguration of the food preparation carried out in schools, there will not be a wholesale closure of school kitchens across Perth and Kinross," he said.
---
>> Keep up to date with the latest news with The Courier newsletter
---
"There is also the potential for significant environmental benefits in terms of transport and production and overall energy savings to be made by this move."
He said all councils across Scotland have had difficult decisions to make due to cuts in  core funding.
"Which of course has been supported by Green MSPs like Mark Ruskell," he added.
Liz Smith, Conservative MSP for Mid Scotland and Fife, said the Tayside Cuisine "package" already benefited local farmers.
"Mark Ruskell needs to be aware the decision was made as a package of procurement which was Tayside-based rather than procuring food from elsewhere, including abroad," she added.