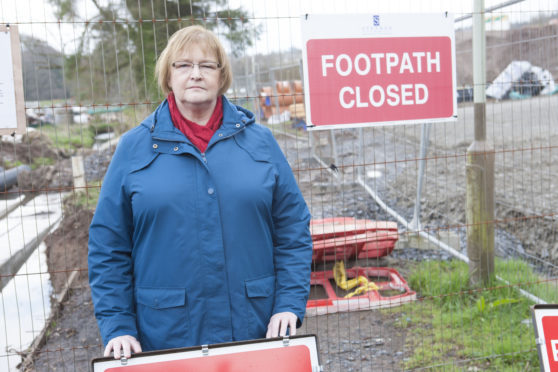 A building company has refused to say when they plan to clear a blocked  public footpath in Perth, a week after it was due to reopen.
A&J Stephen had closed the busy public footpath between Oakbank and Broxden for a six month period for access to their Woodlands housing development site, with the diversion in place until March 31.
With the original time frame now elapsed, councillor Sheila McCole  has demanded answers as to when the building company will remove the diversion which has been in place since September – but so far A&J Stephen have refused to respond.
Councillor McCole said: "I contacted A&J Stephen prior to the anticipated re-opening of the path on March 31  and again this week now that this deadline has passed, seeking assurance on their revised date for the removal of the path diversion.
"Locals who walk to work or school and those who walk their dogs have had to exercise significant patience over the six month period of the diversion and people were anticipating a return to normal service at the end of March 2019.
"Like most people I accept that this inconvenience was the least worst option to develop the site and I have received no complaints from residents about this ongoing development even although many would, quite understandably, have preferred to see the field at Woodlands left as a field.
"I await my reply from the developer but will ensure that I communicate this to residents as quickly as possible."
Councillor Dave Doogan also showed support for the reopening of the path.
He said: "It's a pretty big deal and folk begrudgingly accepted that the path would be shut for six months but there's nothing being done to reopen it and there's nothing being said about it."
An information notice still posted to the site fence says the road will reopen on March 31.
The notice also states: "We appreciate this path is important for people walking and cycling in and through this area.
"During the period of time when the diversion will be in place, we would be grateful if both cyclists and pedestrians take added care on these unfamiliar sections of diversions to ensure the safety of all users."
A&J Stephen refused to comment when contacted by The Courier.