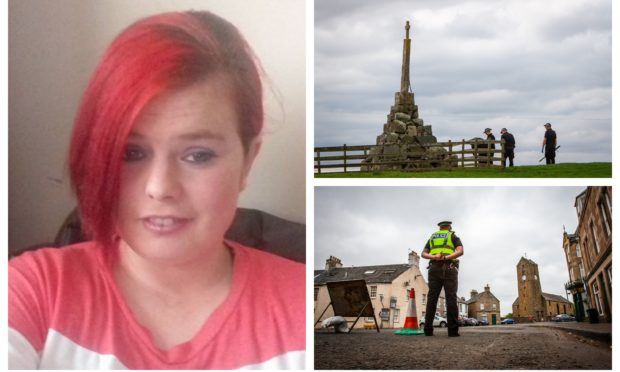 A man accused of murdering his sister at a Perthshire witch monument blamed his girlfriend during a conversation with his father in jail.
Jordan Johnstone claimed Annalise died in his arms after he found her lying on the ground at the Maggie Wall landmark near Dunning, the High Court in Livingston heard yesterday.
His father Gordon, 44, told the court he visited his son in HMP Edinburgh after he was charged with his daughter's murder.
The father-of-six demanded Johnstone Jr tell him what happened or he "was going to smash his face on the table."
Mr Johnstone, of Fauldhouse, said his son told him that he, Annalise and co-accused Angela Newlands had gone to the witch monument on the back road from Dunning to Auchterarder and that he had left the two women there.
"Jordan went back to the house in Auchterarder because it was getting late and he wanted to put on a jacket," he said.
The court heard Johnstone told his father he walked about three or four miles back to the property in Ravens Close, alone.
Annalise Johnstone murder trial: Hillwalkers tell court of discovering blood-soaked body
"After about five minutes, she (Newlands) came in and started washing blood off her hands," he said. "He asked her where Annalise was, and she said she was still at the witch monument taking photographs."
Mr Johnstone said his son became suspicious, and "sprinted" back to the monument.
"He saw my daughter Annalise bleeding profusely from the neck," he said. "He ripped off his T-shirt and tried to stop her bleeding."
Newlands then pulled up in her Ford Galaxy car, the court was told.
Mr Johnstone said she refused his son's request to call an ambulance, adding: "She said to him 'You better take the rap for this, or I'll tell the police you were interfering with my kids'."
Mr Johnstone said his son moved Annalise's body to a place "where she could be found."
He said he was worried that Newlands would arrange for her father to take the body and hide it.
Mr Johnstone said his son had also taken items from the scene – including the weapon used to kill Annalise and her mobile phone – and put them somewhere safe.
Under cross examination by Newlands' QC Mark Stewart, Mr Johnstone said he had fallen out with Annalise about 18 months before, after she came out as gay.
"I never cut her off, I just didn't approve of it," he said. "I took it badly. When I think back, I should have stuck with her and said, well, it's your life."
Mr Stewart questioned Johnstone's version of events and pointed out it would take some time for Johnstone to run or sprint back to the witch monument to see his sister die.
Mr Stewart said: "It is an agreed piece of evidence that Miss Johnstone expired from her injury in a few minutes.
"We can see how that makes his story impossible."
---
'There was nothing to suggest it was a road accident' says detective
Police upscaled their inquiry to a full-scale murder investigation when the extent of Annalise Johnstone's injuries became clear.
Dundee-based Detective Sergeant Mark Lamont told jurors how he was in charge of managing the crime scene.
The trial heard that police were quick to rule out that Annalise had been the victim of a road accident.
"We were treating it as an unexplained death," he said. "There was nothing to suggest it was a road accident."
A cordon was placed around the scene, and a small tent was erected to preserve the body.
At about 6pm, samples were taken from the deceased's clothing.
Mr Lamont, 48, said: "We moved her onto her back.
"I could see then that she had a horrific injury to her neck, an incision from ear to ear, right across her throat."
He said: "Obviously, this was now a suspicious death. The investigation moved away from a road collision inquiry."
He said there was barely any blood around the crime scene. "Just a few droplets. Not what you would expect if this had been the scene of a murder," he said.
The court heard how the investigation expanded to the Maggie Wall memorial, after CCTV from a nearby property showed headlamps of a vehicle at the site in the early hours of May 10.
Jurors were also shown CCTV of Annalise visiting the Alpine store in Ardrossan just after 4pm on May 9.
The trial before Lady Smith continues.